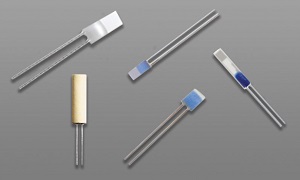 Heraeus thin film RTDs. Image credit: Digi-Key
Digi-Key Electronics is now carrying Heraeus Sensor Technology USA's line of thin film platinum resistance temperature detectors (RTDs) after a new distribution agreement.
The thin film platinum RTDs feature high stability, interchangeability and fast response time, Digi-Key says. The agreement with Digi-Key allows Heraeus to expand its customer base and make it easier for manufacturers to procure temperature sensors along with other passive and active components needed for end products.
Platinum RTDs are used in automotive, process technology, electronics, energy supply and energy management, household appliances and life sciences applications.