In case you missed it, yesterday, May 4, was World Password Day, established to foster better cybersecurity awareness by the average Internet user. The need for password security vigilance by British social media users is underscored by data provided by Ebuyer.com, the UK's largest electronic commerce retailer.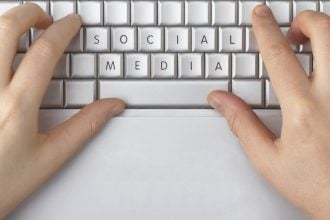 Source: Shutterstock
A national survey conducted by Ebuyer.com reveals that only 48 percent of users admit to reading the terms and conditions when signing up to social media, meaning that 52 percent of those who sign up to apps don't know what they are agreeing to and how those platforms can use their personal content. And 44 percent of Brits admitted they didn't realize social media platforms have the right to distribute and share the things they post, potentially for advertising purposes.
When it comes to making certain areas of their profiles private, 1 in 10 Brits admitted that they have no privacy settings on their social media accounts. While 78 percent of Facebook users have heeded warnings about privacy, only 14 percent of Brits use privacy settings on Snapchat.
Social media privacy doesn't appear to be a priority, as 89% admitted they let up to 4 people know their social media account passwords and 1 in 10 (10 percent) Brits let up to 10 people know their passwords. People aged 65+ were the most safety savvy with only 1 percent letting between 5-10 people know their password.
Over a third of Brits admitted they have their name, age, where they work, live, pictures, friends and their relationship status freely accessible on social media; 11 percent of those surveyed did not think strangers could find out any information at all, including their name, about them on social media.
Ebuyer.com spoke to Dr. Hatana El-Jerd, a lecturer in Digital and Social Media at Leeds Trinity University, about why Brits feel so comfortable sharing so much information about their personal lives in the public domain. "There isn't a simple answer or a one size fits all perspective for users over sharing information. Culture, environment, personality and our motivations all play a role.
"Offline relationships differ significantly from our online relationships. In the real world, people might disclose intimate information to someone they perceive as a close friend, while keeping to general formalities with a colleague from work, essentially categorizing friends on perceived intimacy. However, with social media platforms such as Facebook – anyone we add is categorized as a 'friend' and is privied to all of the personal and intimate information posted. Perceiving this social media space with 'friends' as 'safe' is what ultimately impacts how much information people are willing to disclose and sometimes typing a status is easier than having a face to face interaction."
Annalise Short, Marketing Manager at Ebuyer.com said, "Social media has become an important part of our daily life. Each platform serves an array of different uses and is used in every country across the world.
"However it is important for individuals to read the terms and conditions and realize what they are agreeing to when they sign up for each app. Taking the time to read over the fine print and making sure you are comfortable with how the platforms can use your content is key, especially when it involves personal information."
Dr. Hatana El-Jerd said: "Many users are oblivious to how many people can access information they post. When a user's network is not private, people they do not know are able to see what they are doing, for example, what public posts they've liked, events they have attended and places they have checked into. Users need to be aware that people such as future employers could potentially have access to this information and should therefore pay more attention to privacy settings."