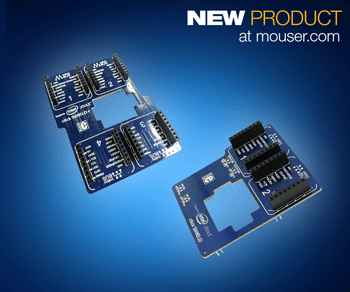 MikroElektronika Intel® Joule™ click shields. Image credit: Mouser Electronics
Mouser Electronics is now carrying the Intel Joule click shields by MikroElektronika. These shields allow engineers to add up to four MikroElektronika click boards to their Intel Joule Expansion Board for Internet of Things and smart devices.
The click shields help extend the functionality of the Intel Joule Expansion Board. This board provides easy access to the inputs and outputs of the Intel Joule system on module. They also add MikruBUS Adapter click board connectivity to the Intel Joule Expansion Board. This enables engineers to choose one of the 270 click boards to add displays, radio frequency, connectivity, Ethernet modules or sensors when designing application. The click boards come with examples already written in the MikroElektronika compilers. This provides a foundation for any future IoT design projects.
The MIKEROE-2546 shield comes with two MikroBUS sockets. It also features a 12-bit analog-to-digital converter with an SPI serial interface.
Learn more about this product here.