New technology developed at North Carolina State University combines three components — a Tinkertoy-like cube, a webcam and custom software — to speed up manipulation of virtual 3-D objects. The system virtually eliminates latency.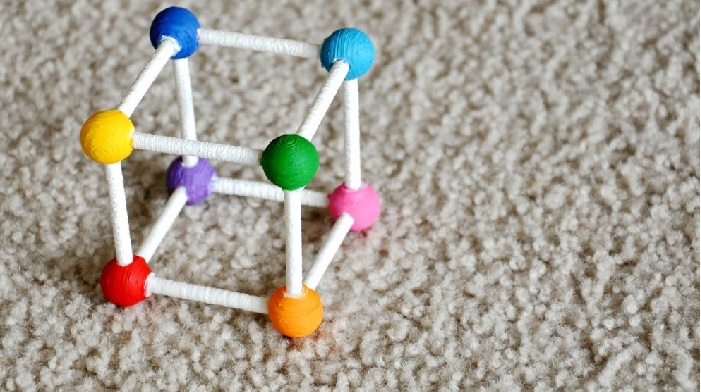 CAPTIVE cube. Source: North Carolina State UniversityThe CAPTIVE (cube with augmented physical tools) system offers users six degrees of freedom (6DoF). While other tools provide 6DoF, the inherent latency slows progress. Based on the research team's testing, CAPITVE users can rotate objects almost twice as fast as other programs.
"The primary advantage of CAPTIVE is that it is efficient," says Zeyuan Chen, lead author of a paper on the work and a Ph.D. student in NC State's Department of Computer Science. "There are a number of tools on the market that can be used to manipulate 3-D virtual objects, but CAPTIVE allows users to perform these tasks much more quickly."
Unlike the solid cubes often used in Augmented Reality (AR) systems, CAPTIVE's cube is a physical wireframe of 10 centimeters per side. White edges connect with red, orange, green, and blue spheres. The user holds the cube in her hands; a webcam focuses on the cube, which the user manipulates.
The research team described a potential application for CAPTIVE in an anatomy class. The cube would contain a virtual heart model. Using a haptic pointing device, a student can touch one point on the cube and receive information about the corresponding point on the heart model. Other functions include magnification and cutting — in this case, taking a virtual slice from the heart.
Chen envisions CAPTIVE as a user interface that enables users to explore 3-D data.