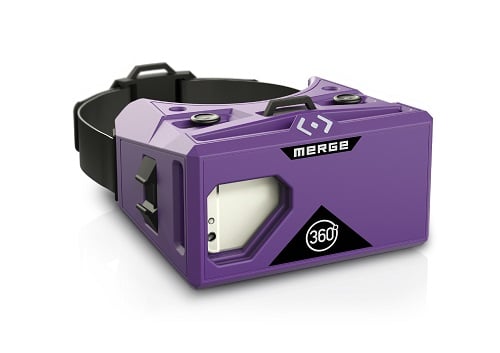 The Merge virtual reality googles. Source: Merge VR Merge VR has established a $1 million developer fund in order to encourage the augmented reality and virtual reality community to build apps for its Merge platforms of VR googles and its upcoming Merge Cube device.
The fund is designed to get the community involved in building new creative apps for future AR and VR programs. Merge VR developed VR googles that are compatible with both iPhone and Android devices to experience VR apps, 360 degree videos, 3-D movies and more.
The company is gearing up to launch its Merge Cube device, which allows users to hold and interact with holograms. The cube was announced at this year's CES 2017 tradeshow, winning the award for "Most Unique Product."
The fund will invite developers all over the world to create new experiences for current VR products and the future Merge Cube. Already VRX, Draw & Code, Steelehouse Productions, and Chicken Waffle are participating in the fund.
"When a kid can pick up a physical object and see it turn into something else in the palm of their hand — then play with it, it's magic," says Chad Lee, CEO of React VRX. "Developing products that create this magic is exciting for us."
To learn more about how to apply for funding, visit: www.dev.mergevr.com/fund