As the crowds begin travelling to Nevada to see what this year's consumer electronics show has in store, one place they'll want to check out is the continuously growing Eureka Park.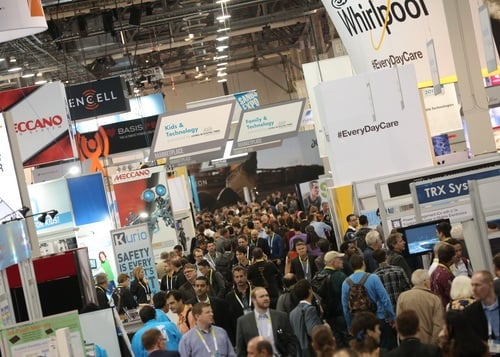 Crowds at CES 2015 taken last year in Las Vegas, NV. (Source: Consumer Technology Association)
The Eureka Park Marketplace offers start-ups an opportunity to launch their new products, and this year CES will welcome innovations from 500 new companies, proving approximately 400% growth in the marketplace since its inception in 2012.
Eureka Park has been a successful place to showcase, too. According to recent research conducted by the Consumer Technology Association, as well as data provided by CrunchBase, the 1,100 start-up companies that have had exhibits in Eureka Park since 2012, have been funded at over $1 billion to date, collectively.
What to expect?
Eureka Park, which is presented by the National Science Foundation and Techstars, will be located at CES Tech West, on Level 1 of the Sands Convention Center. The marketplace is organized by product categories, countries, and experiences. Major product categorizations include 3D printing, wearables, smart home, health, and sports tech and there are also major displays for exhibits from France, Russia, Israel, and Hong Kong.
Although there are 500 companies, here's a preview of some innovations that will be on display this week.
1. GoTech, a start-up that develops unique consumer products will show off some of its latest, such as retractable headphones for smartphones, wireless desktop chargers and folding selfie sticks.
2. Leti, a technology research institute for nanoelectronics will introduce three of its own start-up companies and innovations: eLICHENS, and air pollution bio-sensor indicator, Arayballe Technologies, creators of smell and taste sensors, and The Airboard, a thumb-sized computer for rapidly prototyping connected objects.
High-speed Internet over long-distances from just one access point. (Source: Leti)
Leti will also demonstrate three other disruptive technologies, including ultra-high brightness, augmented reality displays, and high-speed wireless data transmission between mobile devices.
3. If you're attending CES and happen to head to Eureka Park, you could be one of the first to take the 5-Key Challenge, a demonstration by Qwertyfree, showing off a new way to type with just 5 keys. The company calls it "the ultimate typing solution for small and mobile devices."
4. A company called YipYap will show off the deceptive PipSqueak, a Bluetooth phone that connects to your phone and trick your kids into thinking they are actually having real conversations on their very own phone.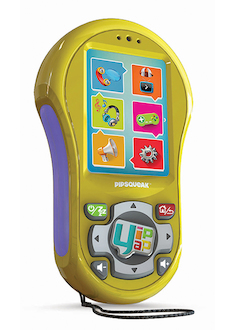 YipYap's Pipsqueak. (Source: YipYap)
5. Nano Dimension will bring 3D printing to the world of electronics. The company will demonstrate its flagship product, the Dragonfly 2020 3D printer – a printer that looks about the size of an ordinary desktop printer and is designed specifically for the production of multilayer printed circuit boards, which can be found in many of today's consumer electronics.
6. uSens, a company that creates augmented reality and virtual reality technology and tools will show off its newest professional level 3D hand and head tracking system, as well as its "super reality" digital experience which will combine both augmented and virtual realities.
7. French start-up Wezzoo will head to Eureka Park for the first time to showcase the Oombrella, a smart, connected umbrella that also acts as a portable weather station to provide data in real time.
8. Aerial will launch its prototype smart outlet, the Aerial Cube, whose details are currently under wraps. The CUBE is a smart-home technology that comes with plug and play capabilities, a variety of colors, and has many functions.
9. New York-based Paper Battery Company is developing ultrathin supercapacitors to enable revolutionary, system-level power and energy solutions and will be showing visitors to its booth what it's all about. Paper Battery Company's technology is based on combinations of supercapacitor energy and power densities, combined with ultrathin footprints and placement options. A supercapacitor-based power array can deliver multiple, system-level functionalities simultaneously and has potential to be used in applications such as mobile devices, wearables, IoT, cloud computing, and transportation.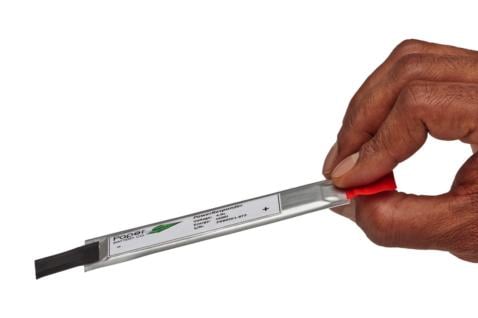 New York-based Paper Battery Company is developing ultrathin supercapacitors. (Source: Paper Battery Company)
10. For a more in-home, well-being device, French start-up Lumiere will showcase its newest product – the Lumiere Diffuser – a high-tech essential oils diffuser which combines the worlds of aromatherapy with connected objects.
11. For home entertainment lovers, a start-up called Genni will show off the Cast, a small hub that can smarten up ordinary TVs, stream content, video chat, and let you play interactive games.
This year Eureka Park will also incorporate the University Innovations Marketplace, where 11 educational institutions, including MIT, the University of Michigan, Case Western Reserve University, and Purdue will unveil some of their most crucial developments.
Also making an appearance will be Indiegogo exhibitors, crowdfunders who will display their projects in hopes of moving them quickly from concept to market.
More of the latest innovations in technology will be revealed as CES 2016 commences this week.