Microchip Technology Inc., an Arizona-based provider of microcontroller and analog semiconductors, has introduced the SAM R30 System in Package (SiP), a single-chip radio frequency (RF) microcontroller designed for connected home, smart city and industrial applications.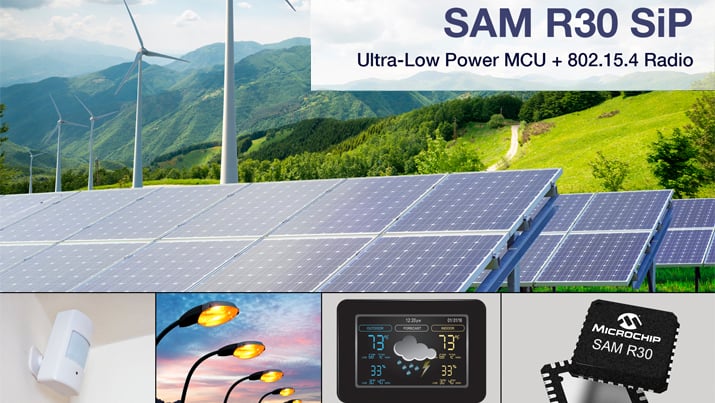 Combining an Ultra-low Power MCU with an 802.15.4 Radio, the SAM R30 Enables Long-lasting Battery Life for Connected Devices. Source: Microchip Technology Inc.
The SAM 30 SiP incorporates an ultra-lower power microcontroller with an 802.15.4 sub-gigahertz radio in a compact, 5 millimeter package. It is designed to meet the rising demand for battery-powered, wirelessly-connected systems through features that extend battery life for multiple years, including incorporation of the energy-efficient Cortex M0+ ARM-based architecture and ultra-lower power sleep modes.

The SiP's ability to operate within the 769-935 megahertz range also gives developers the flexibility to implement a point-to-point, star or mesh network; Microchip offers a free point-to-point/star network protocol stack to help developers get started immediately (with mesh networking capabilities available later in 2017). Nodes outfitted with the SiP can be positioned as far as one kilometer apart, with the ability to double the range in a star network. A mesh network delivers wide-area coverage for applications such as street lighting or wind and solar farms.

The SAM R30 SiP is available in two quad flat no-leads (QFN) packages that may be sampled, or purchased in volume production quantities; also available is a USB-interfaced development board supported by the Atmel Studio 7 Software Development Kit (SDK):
ATSAMR30E18/QFN32 package, $4.11 each in 10K unit quantities
ATSAMR30G18/QFN48 package, $4.26 each in 10K unit quantities
ATSAMR30-XPRO development board, $65 per board
To purchase, contact one of Microchip's authorized distribution partners or visit microchipDIRECT.