IXYS Integrated Circuits Division, now part of Littelfuse Inc., has introduced the CPC1984Y, a 600 V, Normally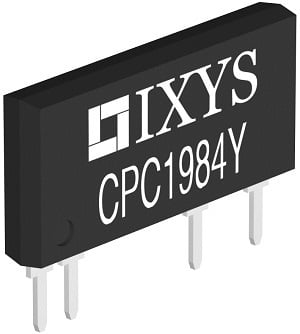 Source: Littelfuse, Inc.Open Power SIP Relay, rated for up to 1 A DC/1 Arms continuous load current, twice the load current of the company's most popular power relay. This high-reliability device uses optically coupled MOSFET technology to provide 4000 Vrms of input-to-output isolation. In fact, the CPC1984Y SIP Relay offers the best combination of load voltage and load current available with a 4000 Vrms isolation voltage. The optically coupled outputs, which employ IXYS ICD's patented OptoMOS architecture, are controlled by a highly efficient infrared LED.

With a typical on-resistance rating of just 0.51 Ohms and a maximum rating of just 0.66 Ohms, the CPC1984Y offers significantly lower on-resistance than competitive devices. Its 600 V blocking voltage rating provides sufficient design margin for both 110 Vrms/220 Vrms power line applications for universal power supplies.
CPC1984Y SIP Relays offer these key benefits:
Low drive power requirements reduce the CPC1984Y's power consumption.
Snubbing circuits aren't needed to suppress arcs when switching.
Flammability rating of UL 94 V-0 ensures high flame retardance of the device's plastic package.
Availability
The CPC1984Y SIP Power Relays are in volume production, and samples are available through any authorized IXYS ICD distributor. For a listing of IXYS ICD distributors, please visit
www.IXYSIC.com
. They are provided in a four-pin (eight-pin body) power SIP package, in quantities of 25 per tube.
For More Information
Additional information is available on the
Power Relays (MOSFET-based)
page. For technical questions, please contact:
IXYS ICD Marketing and Technical Support
.