Until a few years ago, the name Watson evoked one of two images. Thomas J. Watson, Sr. became IBM's president in 1915 and oversaw one of its earliest reinventions. The company's research center in Yorktown Heights, NY, bears his name. Alternatively people remember Thomas Augustus Watson, assistant to Alexander Graham Bell when Bell invented the telephone in 1876.
How times have changed. Most people in the electronics industry today associate the name with the artificially intelligent supercomputer that handily beat two human competitors on the TV quiz show "Jeopardy." Understanding the chasm that separates this Watson from those earlier Watsons gives us a sense of how much the electronics industry has evolved.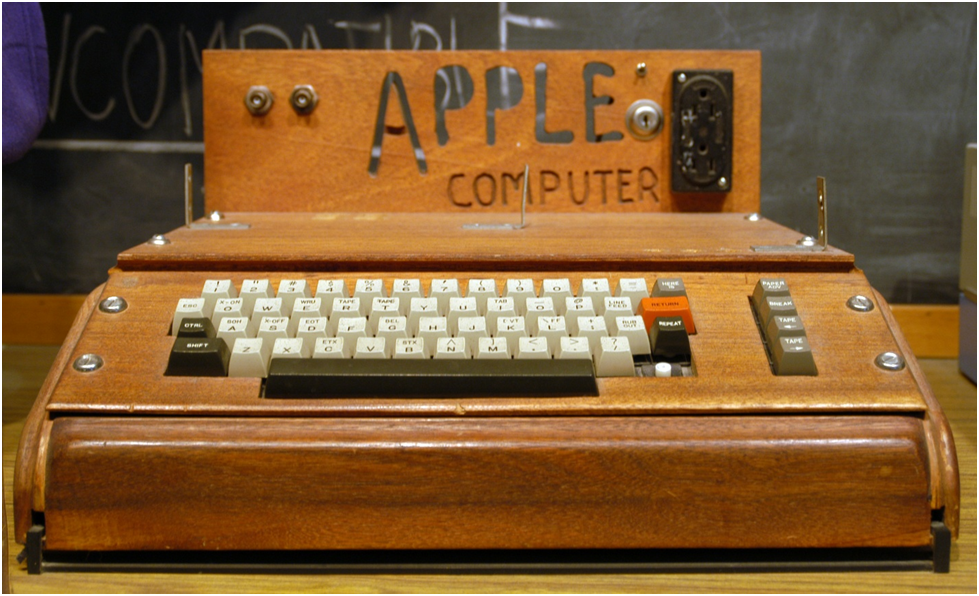 The Apple I—the first truly personal computer—1976. Author Ed Uthman, Source: Wikimedia Commons In 1967, New York City played host to the Consumer Technology Association's very first Consumer Electronics Show (CES®), attracting 117 exhibitors, including big names like Packard Bell, Westinghouse, Motorola, Panasonic and RCA. Some 17,500 attendees saw with their own eyes the latest amazing applications for the transistor, developed 18 years earlier to replace most vacuum tubes. The show floor boasted innovations such as pocket radios and state-of-the-art (black-and-white) TVs that created images on cathode ray tubes (CRTs). To put that moment in perspective, the first microprocessors did not appear until four years later in 1971. Five years after that, in 1976, Apple debuted the Apple I, the first truly personal computer (although Byte Magazine gave that title to its successor, the Apple II, which the company released the following year).
How Far We Have Come
The years since that first CES have witnessed an avalanche of technological breakthroughs. Attendees first saw videocassette recorders in 1970. Laserdisc players came along four years later, while camcorders and CD players were introduced in 1981. Interactive CDs first appeared in 1991; DVDs followed in 1995. Television technology has undergone many advances since that time. Plasma TVs showed up in 2001, Blu-Ray DVDs in 2003, organic LED (OLED) TVs in 2008, and 3-D high-definition TV in 2009.
This year marks CES's 50th anniversary. Over that time, many of the players have changed. Only one company—Panasonic—has exhibited every year, while nine other companies from the first show will be back: 3M, Lenovo, Memorex (now MEM-CE), Philips, Sharp, Sony, Toshiba, Voxx International and Westinghouse. During the festivities of CES 2017, the 37 companies that have participated in more than 40 of the show's 50 years will be honored. Download the full schedule.
In case you think that the pace of innovation has already peaked, attendees last year saw applications in augmented reality, high-resolution audio, all-electric concept vehicles and the latest developments in the Internet of Things (IoT). Meanwhile the CES itself has grown tremendously from those early days. Last year's event spread out over more than two million square feet of floor space, accommodating nearly 4,000 exhibitors and more than 177,000 attendees.
The 2017 CES promises to be just as comprehensive, innovative and surprising. In one significant change, the two days before the beginning of the conference on January 5, 2017, will feature exhibitor news conferences and press events, allowing interested attendees to take advantage of the event without losing precious (and usually inadequate) time on the show floor.
There is no way to present even a significant fraction of exhibiting companies and their products here, but these few examples should provide a taste of what you will see.
Canadian company Magna (Aurora, ON) will offer a look at the "car of the future" through mixed-reality technology that will give attendees a multidimensional experience with new ideas that make tomorrow's cars safer and smarter.
Taiwan-based Industrial Technology Research Institute (ITRI) will demonstrate an intelligent vision system that allows drones and other robots to interpret the visual world and learn from experience. The company invites attendees to have coffee and play chess with a robot powered by its vision system.
Industry giant Intel will host a press conference to demonstrate how the company is incorporating virtual reality far beyond its current niche in consumer technology.
Bosch will showcase applications for adapting the IoT to improve quality of life. Smart homes will make life easier and safer; smart cities will improve urban quality of life; connected mobility will allow new concept cars to serve as personal assistants; and Industry 4.0 will connect people, machines and objects in real time.
Technical Sessions
In addition to product presentations, company receptions and other networking opportunities, CES includes conference sessions covering a wide range of subjects and genres. One session entitled "Artificial Intelligence for Autonomous Driving" will explore the state of current technology, including self-learning algorithms that improve by mimicking human reactions to unexpected situations, as well as the implications of autonomous driving on government policies and the expected enabling legislation.
Other sessions will explore the evolving threats that inevitably result from a connected world, including more sophisticated ransomware and case studies detailing the consequences of accessing insecure Web applications, as well as the benefits, challenges and opportunities presented by the IoT. Imagine taking a trip where your hotel's robotic concierge suggests dining and other entertainment, and offers business-oriented tools to make the most of your CES experience.
A large crowd attending the Innovation Awards at CES 2016. Source: CES If your interests lie in consumer electronic equipment, another session will present the latest developments in high-resolution audio, and new and productive applications for virtual reality. You can even get a glimpse of the city of the future, including what one session developer refers to as "industry disruptors"—specifically artificial intelligence, machine learning and the commercial use of drones. This reminds us of a quote from Ray Kurzweil: "The first intelligent robots will claim to be human. You may not believe them, but they will become exponentially more persuasive." The consequences of that particular prognostication border on extremely disturbing. Get the complete conference schedule for more information.
Supersessions and keynote addresses will further examine the industry's future. For example, one keynote speech from Qualcomm CEO Steve Mollenkopf will describe the game-changing effect of 5G communication, including applications not usually linked with communication technology.
Events throughout the show will continue CES's 50th anniversary celebration, honoring significant companies and their contributions to the industry's relentless progress.
The 2017 CES awaits. Everyone will be there. Don't get left out.