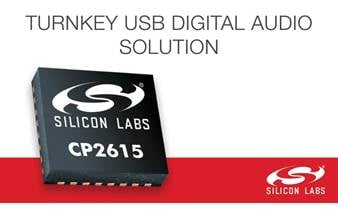 The CP2615 digital audio bridge. Image credit: Silicon Labs
Silicon Labs has introduced an audio bridge device that transfers digital audio data between USB and integrated inter-IC sound (I2S) serial bus interfaces.
Silicon Labs says the CP2615 digital audio bridge simplifies connectivity and accelerates time to market for a wide range of audio applications for Android, Windows, Linux and Mac operating systems, including headphones, headsets, speakers, MP3 accessories, navigation system and point-of-sale terminals.
The bridge provides a drop-in USB-to-I2S connectivity solution that requires no USB audio knowledge or protocol experience allowing developers to focus on the end applications rather than firmware development.
Available in a compact 5 mm x 5 mm QFN-32 package, the device features a USB 2.0 full-speed function controller, USB transceiver, on-chip oscillator, I2S audio interface, I2C control interface and embedded flash memory for storing device configurations.
The audio bridge provides a solution for low-end and mid-market headphones requiring a 48 kHz sampling rate or for USB dongles designed for consumers who own high-end headphones that use an analog jack for audio. With many smartphone designs eliminating the analog headphone jack, the bridge could be used for designs that allow consumers to continue to use existing headphones.