Integrated Silicon Solution, Inc. has released two high-performance Class-D power amplifiers—the IS31AP2111 and the IS31AP2121. The company claims that they are the first I2S Digital Input Class D amplifiers to address medium- to high-power audio amplifier needs in consumer, industrial and aftermarket automotive applications.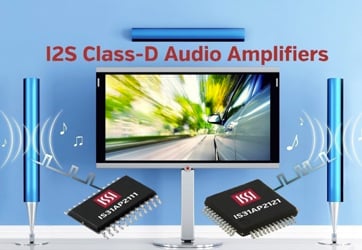 ISSI expands Audio Portfolio with I2S Class-D audio amplifiers. Credit image: Integrated Silicon Solution, Inc.Both devices are 20 Watt power amplifiers with advanced audio processing capabilities including 3-D surround sound, audio mixing, 20 band equalizer, dynamic range and volume control—all programmable via an I2C interface. They operate in a Bridge-Tied Load (BTL) mode, which doubles the available power to the speaker load and eliminate the need for a DC blocking capacitor between the amplifier and speaker. The IS31AP2121 supports 2.1 mode and Parallel BTL to deliver even more power (40W) to a 4 ohm speaker load.
The amplifiers have built-in controls for seamless audio operation and control signals that suppress pop sounds during initial power on/off, power up/down and mute, while also offerring a volume fade-in/fade-out design for power down and mute functions. The devices include built-in protection circuits including thermal, short-circuit and under-voltage for reliable and robust operation. An I2S (Inter-IC Sound) serial bus interface transfers audio signals in digital format designed to maintain maximum audio quality when distributed between audio devices. The bus separates clock and serial data signals for lower jitter and higher noise immunity than analog audio amplifiers.
The IS31AP2111 and IS31AP2121 are available in a thermally-enhanced 24 pin eTSSOP and 48 pin eLQFP type packages respectively. The IS31AP2111 is priced at $1.20 each, while IS31AP2121 is priced at $1.30 each in 1,000 piece quantities.
To contact the author of this article, email engineering360editors@ihs.com
Related Links: