Technologies developed for specific uses sometimes unexpectedly jump to another totally unrelated application. The first-ever digital musical instrument, for example, repurposed aerospace semiconductor technology to store musical samples in an unprecedented way. The vocoder—a pioneering device in the history of electronic voice coding and synthesis—followed a similar path, making the leap from military technology into the sphere of popular music.
Homer Dudley developed the vocoder while working at Bell Labs in the late 1920s. He thought that speech is simply a continuous sound, in theory a carrier signal, created by the vocal cords and modulated by the mouth, throat and sinuses to form words. Dudley figured that speech could be electronically reproduced by creating modular blocks of sound that could then be arranged into intelligible language. Also, speech reproduced at a higher frequency could be heard more clearly over longer distances at lower volumes and uses less bandwidth. Dudley wanted to apply these traits to transatlantic communications, but he scrapped this idea due to the garbled sound quality of early prototype machines.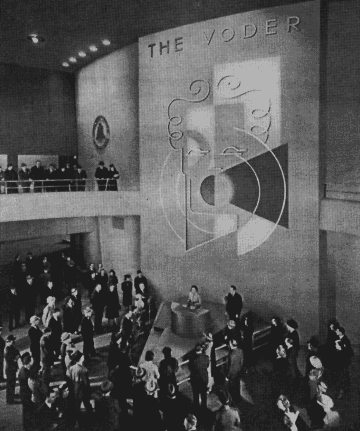 The voder demonstration at the 1939 New York World's Fair.Dudley patented the vocoder and a "voder" device in 1939. His vocoder design analyzes variances in an audio sample's spectral characteristics and recreates them after removing instantaneous frequencies separate from the spectral information, saving significant bandwidth. Dudley and other Bell engineers accomplished this by splitting a voice signal into between 8 and 20 frequency bands, then running a modulator and carrier signal through a series of parallel bandpass filters corresponding to each band. The resulting output was a sort of "dehumanized" speech.
Dudley exhibited the voder, the human-controlled decoder portion of the vocoder, at the 1939 World's Fair in New York. As heard in this video, a Bell telephone operator used a special keyboard with 10 "spectrum keys," each of which controlled the gain of a separate bandpass filter. The voder had a foot pedal for changing pitch and inflection and a wrist bar to switch between "buzz energy" and "hiss energy"—the former produced voiced sounds like vowels and the latter unvoiced sounds like consonants. An operator could therefore reproduce speech in real-time through skillful use of the fingers, hands and feet.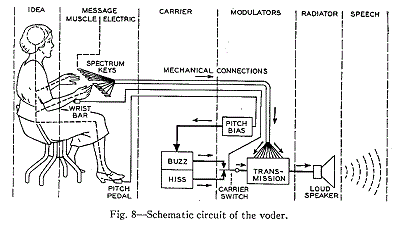 Image credit: UC Berkeley EECS
SIGSALY and Military Communications
In the early 1940s, the U.S. Army was looking to replace its Western Electric A-3 telephone scrambler, which had recently been broken by a German listening station. Bell Labs worked with renowned British mathematician Alan Turing to incorporate a vocoder into a prototype telephone scrambler. The Army awarded Bell a contract for two systems in 1942 and named the new secure speech system SIGSALY. While the system relied on a random noise mask to actually encrypt speech, it used vocoder technology to eliminate redundancy in the signal and significantly reduce the amount of information needing encryption.
A dozen SIGSALY room-sized terminals—each consisting of 40 racks of equipment and weighing over 50 tons—were eventually installed around the world to transmit and receive the highest-level Allied communications. SIGSALY accomplished the first quantized speech transmission and the first speech transmission using pulse code modulation and multilevel frequency shift keying, among other revolutionary digital data transmission concepts.
Vocoder technology continued to see military use following the war. The KY-9 THESEUS, which was the size of a filing cabinet, was used for secure communication by U.S. President John F. Kennedy for secure communications in the early 1960s. The last military channel vocoder was the HY-2, a portable, fully transistorized voice encoder employed during the Vietnam War.
Diagram of a musical vocoder. Image credit: Pingel / CC BY-SA 3.0From Military to Music
Electronic music was an experimental, avant-garde medium for decades but became popular in the early 1970s, providing an ideal environment for distorted voice effects. Composer Wendy Carlos and synthesizer pioneer Robert Moog built a musical vocoder inspired by Dudley's design in 1970. By assigning the carrier signal to a synthesizer and the modulator signal to a microphone input, a musician could run a speech pattern through a musical keyboard to make it "talk" in a robotic voice. The German electronic group Kraftwerk, whose music focused on computers and technology, was the first mainstream group to heavily use robotic-sounding vocoder vocals.
The rise of computer technology against the backdrop of the Cold War prompted dystopian fears that humanity would be enslaved by computers. An interest in something like transhumanism also appeared in pop culture, spawning characters like cult automaton Max Headroom. The robotic sounds produced by the vocoder thrived in this environment, not only in purely electronic music but also hip-hop and pop.
Vocoders have been heard on many popular songs since the late 1970s:
1981: Laurie Anderson, "O Superman"—Anderson exclusively used a vocoder and synthesizer to layer her voice in one of the top singles of 1981
1981: Phil Collins, "In the Air Tonight"—Collins used light vocoding to distort his voice
1982: Grandmaster Flash & The Furious Five, "Scorpio"—Probably the best-known use of vocoding in early hip-hop
1998: Beastie Boys, "Intergalactic"—A heavily vocoded vocal is used to create a robotic effect
2005: Imogen Heap, "Hide and Seek"—Similar to Anderson, Heap used a vocoder for an unsettling chorus effect
2016: Bon Iver, 22, A Million—A technologically focused album that makes heavy use of vocoded voice
Aside from their use in music, vocoders are still extensively used in highly sensitive encryption systems, telephone networks and other applications requiring large amounts of signal compression. Modern vocoders now use linear predictive coding and waveform interpolation rather than bandpass filter banks, but they remain true to Dudley's groundbreaking design, now almost 80 years old.