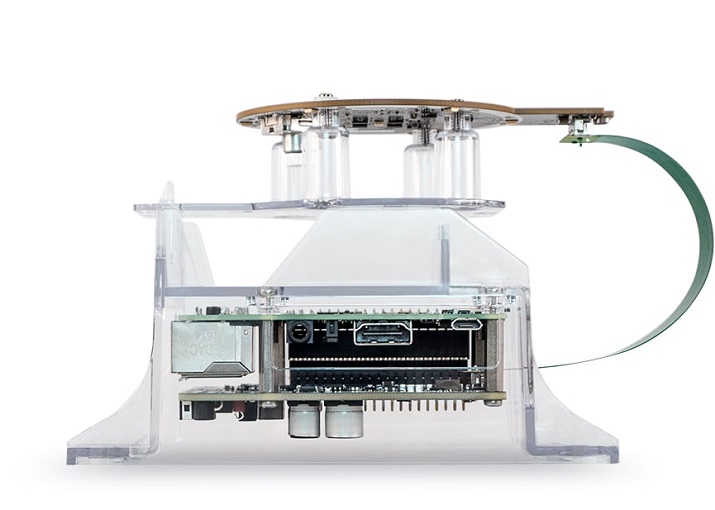 The NXP i.MX reference platform for Amazon Alexa featuring a seven microphone array design, far-field audio processing technology and Amazon Voice Service client. Image credit: NXP Semiconductors
For the first time, Amazon is making its far-field microphone array and voice processing technology found in the Amazon Echo available to hardware makers to build Alexa-capable devices.
The hardware-based reference kit includes the same seven microphone array in Amazon's Echo; proprietary software for wake word recognition, beamforming, noise reduction and echo cancellation; and client software for local device control and communication with the Alexa Voice Service (AVS).
"Since the introduction of Amazon Echo and Echo Dot, device makers have been asking us to provide the technology and tools to enable a far-field Alexa experience for their products," says Priya Abani, director of Amazon Alexa. "With this new reference solution, developers can design products with the same unique seven-mic circular array, beamforming technology, and voice processing software that have made Amazon Echo so popular with customers."
NXP Semiconductors has already jumped on-board offering a complete system featuring Amazon's reference kit along with NXP's i.MX development platform. The i.MX applications processors offer scalability to simplify the creation of new voice-controlled devices, NXP says. The i.MX 6 series can be used for general purpose applications, the i.MX 7 series for low power applications and the i.MX 8 series for interactive high-performance multimedia and audio devices.
"Integrating high-quality audio processing has made the development of advanced voice-enabled devices lengthy and complicated," says Geoff Lees, senior vice president and general manager of microcontrollers at NXP. "This reference design integrates Amazon's proven far-field voice recognition technology and our popular i.MX development platform to enable the creation of high-performance voice-enabled devices with Alexa and reduce time to market."
NXP says the platform allows designers to create devices that can recognize a customer's request from across the room, even when loud music is playing. NXP is offering the Amazon Alexa on i.MX to commercial device manufacturers by request.