This just in: the next generation of the Amazon Echo.
According to a recent article in the New York Times, Echo and other hardware powered by Amazon's intelligent electronic assistant, Alexa, have been a success for the company since the first Echo smart speaker came out three years ago. The Times goes on to say that the new products seem to be a response, at least in part, to Apple and Google's new smart speakers—and that Amazon will rely on aggressive pricing to gain an edge in the intelligent assistant marketplace.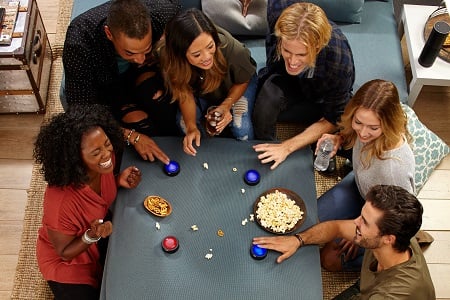 People having way too much fun with Echo Buttons. Image credit: Amazon.The all-new Echo boasts a new design and improved sound for $99.99 (the original Echo was priced over 50 percent higher). Echo Plus adds a built-in smart home hub for $149.99. Both are currently available for pre-order, and will start shipping next month.
"Three years ago we introduced the first Echo, powered by Alexa, with a goal to fundamentally simplify and improve the way customers interact with their homes," said Tom Taylor, senior vice president for the company's Alexa division. "But it's still day one, and today we're making Echo and Alexa even better."
The new Echo delivers what Amazon calls "next generation far-field performance": improved beamforming tech, enhanced noise cancellation and better processing of the "wake word" used to get the device out of sleep mode. It features a dedicated tweeter, a 2.5-inch down-firing woofer and Dolby processing—and can play music from a number of streaming services such as Pandora and Spotify (and, of course, Amazon). It's also available in a variety of colors and finishes—options like charcoal, sandstone, oak veneer and walnut veneer—that are designed to fit into a user's home décor.
Starting from that same base, the Echo Plus adds the promise of simplifying connections to compatible smart home devices; a user simply has to say "Alexa, discover my devices" to set up lights, locks, plugs, switches and so on. As an incentive to get users to try out the technology, a free Philips Hue smart lightbulb is being offered with each Echo Plus purchase (while supplies last).
As for Alexa, there are some new capabilities on hand there as well. A user can set up "routines"—a series of customizable actions triggered by a single voice command. For example, saying "Alexa, good night" could turn off the lights, lock the doors and shut down the TV. Routines can also be triggered by time of day: Turning on the kitchen lights, starting the coffee maker and reading the weather forecast could all happen automatically at 6:00 every weekday morning, and later on weekends.
Another new feature is the ability to place selected devices into "smart home groups." This allows a user to walk into a room and ask Alexa to turn on that room's lights, for instance, rather than having to remember specific programmed names such as "Alexa, turn on the kitchen overhead lamp."
More features are coming soon: Echo Connect ($34.99) will turn the device into a hands-free speakerphone that can tell you who's calling (it even works with landlines—remember those?). Echo Buttons ($19.99 for a two-pack) light up when pressed, similar to buzzers on a game show, and will allow you to play interactive games with friends. And the buttons will be the first of many Alexa Gadgets to come.