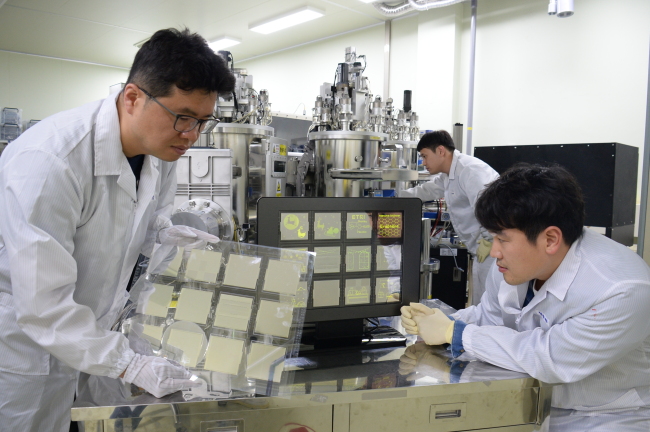 ETRI researchers work on graphene-based transparent electronics for OLED panels. Source: ETRIGraphene is thought to be one of the new super materials in electronics. Taking the shape of a hexagonal lattice made of carbon atoms, it is an extremely thin and flexible material, while at the same time being incredibly strong, nearly transparent, and highly conductive in heat and electricity.
Therefore, it is not a surprise that virtually every electronics company, research center and university is toying with the material to create the next big thing.
Graphene is being researched to be used to cool electronic chips, and to develop extremely sensitive sensors, foldable pressure sensors, flexible antennas and even the basis of the next-generation of transistors.
Now, a team of researchers from South Korea's Electronics and telecommunications Research Institute (ETRI) are using graphene to enable the next-generation of organic light emitting diode (OLED) panels.
The ETRI team has successfully developed a method to replace indium tin oxide (ITO) with graphene, which will be used to make transparent electrodes in OLED panels. Because graphene is flexible and highly resistant to chipping, something ITO is not, this is an important aspect in future OLED panels, especially since they are used in everything from smartphones and tablets to monitors and televisions.
The development could have far-reaching impacts on the display market and the creation of next-generation smart devices, if moved toward commercialization, which ETRI is doing. Graphene-based OLEDs could result in completely foldable display panels–panels that are not only thinner, but stronger than what is currently used.