Graphene, the much-touted wonder material, could eventually play an important role in future electronic devices, including flexible, wearable transparent electronics.
Chemical researchers at Rice University have reported the creation of "rivet graphene," two-dimensional carbon that incorporates carbon nanotubes for strength and carbon spheres that encase iron nanoparticles, which enhance both the material's portability and its electronic properties.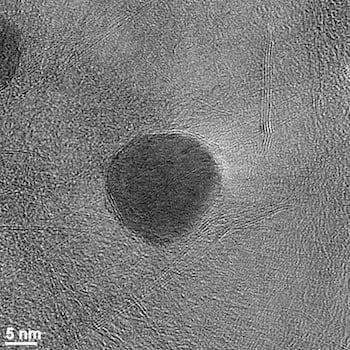 A single "rivet," a carbon-wrapped nanoparticle of iron, attached to graphene that has been reinforced by an interconnected web of carbon nanotubes. Source: The Tour Group, Rice University
Simply, graphene is an electrically conductive nanomaterial consisting of one-atom-thick sheets of carbon atoms, with the atoms arranged in a honeycomb-lattice structure. So-called rivet graphene consists of layers of carbon wrapped around a 30-nanometer iron core, dubbed "nano-onions" by Rice researchers. The structures are grown in place in a chemical vapor deposition furnace after the dispersal of nanotubes and deposition of graphene. A final step welds all the elements together.
The resulting material is transparent enough for flexible and transparent electronics, and the simplified process should be scalable, researchers said.
Rivet graphene was created to solve a shortcoming in conventional graphene formation in which researchers have had to transfer graphene grown via chemical vapor deposition with a polymer layer to keep it from wrinkling or ripping. But the polymer tends to leave contaminants behind and degrade graphene's ability to carry a current.
"Rivet graphene proved tough enough to eliminate the intermediate polymer step," said James Tour, professor of Chemistry, Materials Science and Nanoengineering, whose lab reported the development. "Also, the rivets make interfacing with electrodes far better compared with normal graphene's interface, since the junctions are more electrically efficient."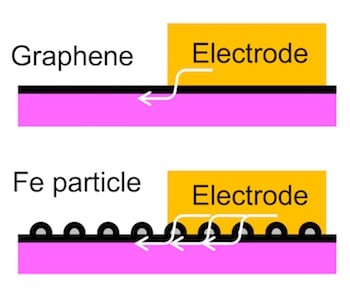 Iron nanoparticles wrapped in carbon and embedded in graphene enhance the material's connection to an electrode. Source: The Tour Group, Rice University The rivets also enhanced the material's ability to transfer current between electrodes and the graphene, even when bent, the researchers reported. "So if you want to use graphene in electronic devices, this is an all-around superior material," Tour said.