Hyperloop One is close to completing its full-scale, 500-meter-long test track, which will become a platform for the company to test its prototype rail propulsion system.
The test track, dubbed DevLoop, is located about 30 minutes outside of Las Vegas in the Nevada desert and will be the proving grounds for Hyperloop One's platform it plans to take to the Middle East in an effort to transform the transportation system in the United Arab Emirates (UAE). The first public trials on the DevLoop are set to begin in the first half of this year.
The Hyperloop is a transportation rail system that levitates pods on magnetic skis and sends them through a low-pressure tube at speeds of up to 760 mph. The idea is to close the gap traveling between cities from hours to minutes.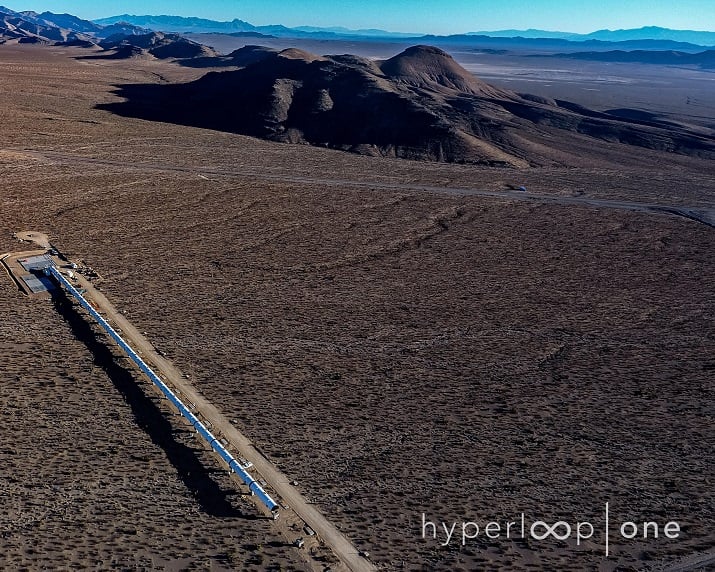 The 500-meter-long test track from Hyperloop One is being built 30 minutes outside of Las Vegas and will be tested to carry passengers at speeds up to 760 mph. Source: Hyperloop One Hyperloop One showed off the construction of its DevLoop in a number of photos showing the 500-meter-long test system, which has a diameter of 3.3 meters and weighs more than 1 million kilograms.
The system being developed for the UAE will create a new mode of exciting transportation that will ease pressure on existing infrastructure and allow for easier access to critical areas such as hospitals and schools as well as expanding access to city attractions and urban development, Hyperloop One says. Once complete, the Hyperloop system will connect Abu Dhabi, Dubai and Al Ain all within the span of a 30-minute ride in the transportation system.
"While technology is revolutionizing many facets of our lives, we have not seen a radical change in transportation since the Wright brothers introduced air travel over 100 years ago," says Rob Lloyd, CEO of Hyperloop One. "Tying together the Middle East region would produce greater virtual density, without congestion and pollution, spurring innovation, productivity, job growth and more powerful sharing of knowledge, labor and investment."