The hyperloop has been in development for some years now. This is a type of transportation that moves vehicles (pods) through a tube using a pressure difference. The speed that can be achieved is bigger than a the speed of jet airplane, and – the good news - it does not create any carbon emissions because it is powered by non-fossil energy.
The technology is simple: a pod inside the low pressure tube will start by accelerating using a typical electric motor or some other equivalent source. Then, when the pod reaches a certain speed, magnetic levitation will lift the pod above its track and impulse it to speeds bigger than that of of an airplane. The design of the original hyperloop was an idea of South African born, American-Canadian Elon Musk, the CTO of SpaceX. In its original proposal, Mr. Musk suggested creating the first hyperloop rout running from San Francisco to Los Angeles, a distance of over 350 miles. The distance would be covered in around 30 minutes with an average speed of 700 mph.
Hyperloop has not produced any real results, until now. A startup company, called TransPod, headquartered in Toronto, Canada, announced last week the opening of three global offices in Toronto, Bari, Italy and Toulose, France with the purpose of creating hyperloop systems to "disrupt and redefine commercial transportation," according to their website, and with the goal of creating viable hyperloop systems by 2020.
"As TransPod enters the industrial phase of full system development, the expansion of our presence in these countries was a logical step in our growth strategy," said Sebastien Gendron, co-founder and CEO, TransPod. "We're thrilled to be growing our team and global partner network so quickly, as we work to introduce hyperloop transportation around the world. Our current position increases our ability to service diverse markets to connect people, cities, and businesses. The future of hyperloop will be its ability to virtually shrink distances and create a much more interconnected economy and true global community," adds Gendron. "It will facilitate the exchange of ideas, commerce, and resources. Ultimately, we're talking about much more than just transportation here – we're talking about improving quality of life and economic prosperity – and TransPod is at the forefront of this new chapter."
True to these ideas, last week (3/29/2017) TransPod announced its first real commercially viable hyperloop project running from Montreal to Toronto, a 357 miles distance that it is expected to cover in less than one hour.

Hyperloop tube. Credit: TranPod
The technology used by TransPod is different than the standard technology used by other hyperloop companies. Maybe, this difference will finally make possible the dream of Elon Musk. "Our biggest differentiator versus other hyperloop companies is that the approach at TransPod is to take a physics-first and engineering-first approach to our design. We're not using pre-existing concepts of hyperloop, and we're not crowdsourcing or harvesting ideas and trying to make them fit with each other," said Gendron.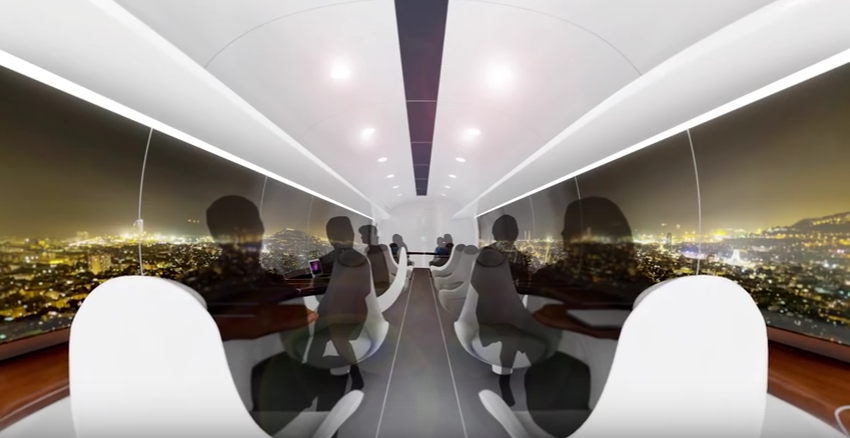 TransPod depiction of the interior of a hyperloop. Credit: TransPod
Hyperloop tube. Credit: TranPod
A company video describing the technology can be found here: