The number of road accidents in India is on the rise due to an increasing number of vehicles day by and to lack of intelligent highway safety and alert systems. Animal-vehicle collisions involving cows account for a sizable portion of these accidents. Researchers from Gujarat Technological University, in Ahmedabad, India, are applying safety technology developed for driverless cars to conventional vehicles as a remedy.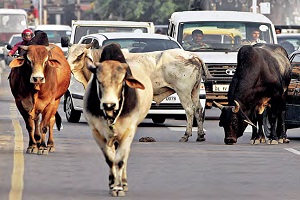 The team designed and tested a low-cost automatic animal detection and warning system using a dashboard camera and an algorithm that determines whether an object near the vehicle is an on-road cow. If the system confirms that the animal's movements represent a risk to the vehicle, an audio or visual indicator is triggered to nudge the driver to apply the brakes whether or not they have seen the animal.
A combination of histogram of oriented gradients (HOG) and boosted cascade classifier for animal detection were applied for feature extraction and learning of the system. A HOG is used in computer vision applications for detecting objects in a video or image. All of the 20+ varieties of cow found in India have been added to the database for system training.
The proposed system achieves an accuracy of almost 82.5 % in terms of animal (cow) detection. While developed in the context of Indian highway conditions, the technology can be of use in other nations or with other available pedestrian and vehicle detection systems.
The algorithm still requires optimization and extension to night-time driving conditions.