Emerging technology used for human gait analysis has been applied to benefit bovines by providing early detection of cow lameness, or hoof disease. Researchers from Osaka University and Gakuen University, Japan, used a camera and artificial intelligence (AI) to realize a smart cowhouse. The system monitors the health of dairy cattle with high frequency and accuracy.
Early detection of lameness from cow gait images with an accuracy of 99 percent or higher was demonstrated. A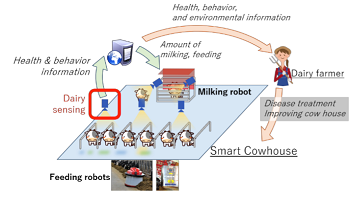 Schematic of a smart cowhouse. Image credit: Osaka UniversityMicrosoft Kinect camera-based sensor capable of measuring distance to an object was installed in a cowshed. The researchers characterized cow gaits and detected cows with lameness based on the large number of cow gait images taken by this sensor.
According to Osaka University Professor Yasushi Yagi, "This will contribute largely to realizing a smart cowhouse interlocked with an automatic milking machine and feeding robot, both of which have already been introduced to some dairy farms, as well as wearable sensors attached to cows under study. By finely adjusting the amount of expressed milk and the amount of feed as well as by showing farmers cow conditions in detail through automatic analysis of cow conditions, we can realize a new era of dairy farming in which farmers can focus entirely on health management of their cows and delivering high-quality dairy products."