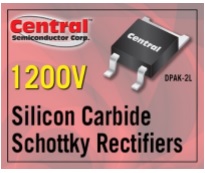 Central's SiC Schottky Rectifiers. Source: Central SemiconductorDiscrete chip vendor Central Semiconductor has introduced a pair of silicon carbide (SiC) Schottky rectifiers for high frequency systems.
The products debuted at the recent 2017 Applied Power Electronics Conference and Exposition (APEC) and are designed for energy efficiency, low switching losses and thermal performance in devices such as power inverters, motor drives, switch-mode power supplies and power factor correction (PFC).
Central says the CSICD05-1200 and CSICD10-1200 components are stable at a wide temperature ranges (-55 degrees Celsius to 175 degrees Celsius) and the DPAK-2L case eliminates potential arcing concerns when in use at high operating voltages.
The devices are currently sampling with the CSICD-05-1200 priced at $3.20 for 2,500 units and $7.94 each for 2,500 units for the CSICD10-1200.