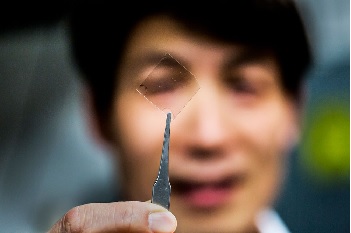 A new method for creating ultrathin, tarnish-proof silver films could change manufacturing methods for touchscreens and flat displays. The method also could ramp up computing power and provide a viable alternative to the use of increasingly expensive indium in touchscreens.
Researchers at the University of Michigan succeeded in creating a seven-nanometer-thick silver film—less than half the thickness of the thinnest film yet made (15 nanometers)—by adding six percent aluminum to the silver. An anti-reflective coating renders the foil 92.4 percent transparent, a property that makes the substance appropriate for transparent conductors.
The new film offers several highly useful properties. It can guide light about 10 times as far as other metal waveguides, a characteristic that could improve computing speeds. By forming two layers of film into a metamaterial hyperlens, the research team created dense patterns, with features much small than those possible with ultraviolet light, on silicon chips. In addition, the film retained its tarnish-proof and conductive properties for several months.
Touchscreens incorporate a transparent conductive layer covered with a nonconductive layer to translate a touch into an action within the device. The vast majority of touchscreens relies on indium tin oxide. Given increasing demand for these screens, the price of this substance is projected to rise. The new film could be an excellent replacement.
Two additional advantages of the new silver-aluminum film are its superior ability to transport visible and infrared light and its potential advantages in metamaterial design. The film transports light by shrinking light waves into surface plasmon polaritons, which appear as oscillations in silver's electrons. The oscillations encode light frequency and transmit this information for a centimeter, which is enough distance to travel within a computer chip.
The plasmonic capability makes the film attractive to use in metamaterials. The film can act as a superlens or be fashioned into hyperlenses that would enable laser patterning.