In the relentless quest for more efficient, compact and low-cost AC/DC converters, engineers use one of two basic topologies: primary-side and secondary-side regulation (PSR and SSR). Both approaches can provide the required controller functionality and meet basic specifications, but each also has a complicated and subtle set of tradeoffs related to regulation, transient response, component-tolerance sensitivity and BOM complexity. In addition, there is the difficult choice between using a transformer or an optical coupler for the isolated feedback path, which is required for both controller performance and electrical safety, as each has distinct pros and cons.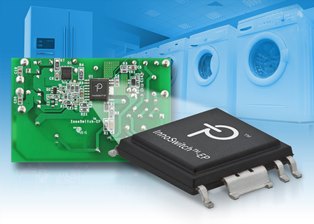 The InnoSwitch-EP family of controller ICs from Power Integrations Inc. uses their innovative FluxLink technology—a magnetically coupled, electrically isolated structure built as part of the IC—to enable efficient, accurate and reliable power-supply circuits without an optocoupler (which have well-known long-term reliability issues as well as other downsides).
The InnoSwitch-EP power-switching controller IC from Power Integrations Inc. uses a unique, magnetically coupled, electrically isolated FluxLink technology, so designers can get the simpler, lower-cost BOM of primary-side regulation with the performance attributes of secondary-side regulation.
These supplies target auxiliary and standby power in appliances, HVAC, consumer electronics, computing, telecom and data communication applications. The technology enables high-performance secondary-side control in both constant-voltage (CV) and constant-current (CC) modes, but with the relative design simplicity and low component count usually associated with primary-side regulation. In short, they offer the BOM virtues of PSR, but with the performance advantages of SSR.
Each of the three ICs in the family features an integrated 725 V MOSFET, synchronous rectification and precise secondary-side feedback sensing control for excellent multi-output cross-regulation with full line protection and instantaneous transient response with less than 10mW no-load consumption. The lowvoltage drop across the synchronous rectifier FETs ensures accurate cross-regulation between the output-voltage rails, while potentially eliminating second stage linear regulators, thus reducing both cost and wasted energy.
Line over-voltage regulation is a highly accurate ±5%. The three family members support outputs of 15 W, 20 W and 25 W for inputs over the wide 85 to 265 VAC range, and even higher power of 24 W, 27 W, 35 W over a narrower 230±15% VAC input range; no heat sink is required for any devices at these power levels. Isolation safety testing equivalent to 1 second for 6 KV DC (critical for AC-line products in these applications) is a standard part of outgoing test on 100% of the products.
Using these controllers, designers can implement a synchronous rectification approach for extremely efficient performance across the full load range. For example, designers can build a 20-W supply with efficiency of approximately 90% in a multiple-output design (where it is more difficult to achieve higher efficiencies and tight regulation, compared to single-output supplies), while keeping no-load consumption under 30 mW (needed to meet energy-related regulatory standards in many situations).
According to Doug Bailey, VP of Marketing at Power Integrations, "increasingly demanding Total Energy Consumption (TEC) regulations are challenging engineers to find ways to reduce system power consumption in all operational modes. InnoSwitch-EP ICs are an easy-to-implement solution that improves power supply efficiency from standby to full load, giving designers a new tool to address TEC regulations." Among these regulations are the EC – ErP (Euro Commission – Energy related Products) and the new ENERGY STAR 7 efficiency standards for monitors.
Samples of the InnoSwitch-EP ICs are available now. Prices begin at $1.08 each in 10,000-piece quantities. A reference design, RDK-469, is available from the Power Integrations website (http://www.power.com/innoswitch-ep).