The Microchip MCP19214 and -15 are dual-channel, mid-voltage (4.5-42V) analog-based PWM controllers with an integrated 8-bit PIC microcontroller. Combining the performance of a high-speed analog control solution -- including high-efficiency and fast transient response -- with the configurability and communication interface of a digital solution, the new family of devices allow the development of flexible power supplies that can be configured more accurately to the target application with minimal external components. In addition, these devices can be programmed to dynamically respond to measurements or events within the system, tailoring the operation to the environment, or intelligently responding to faults.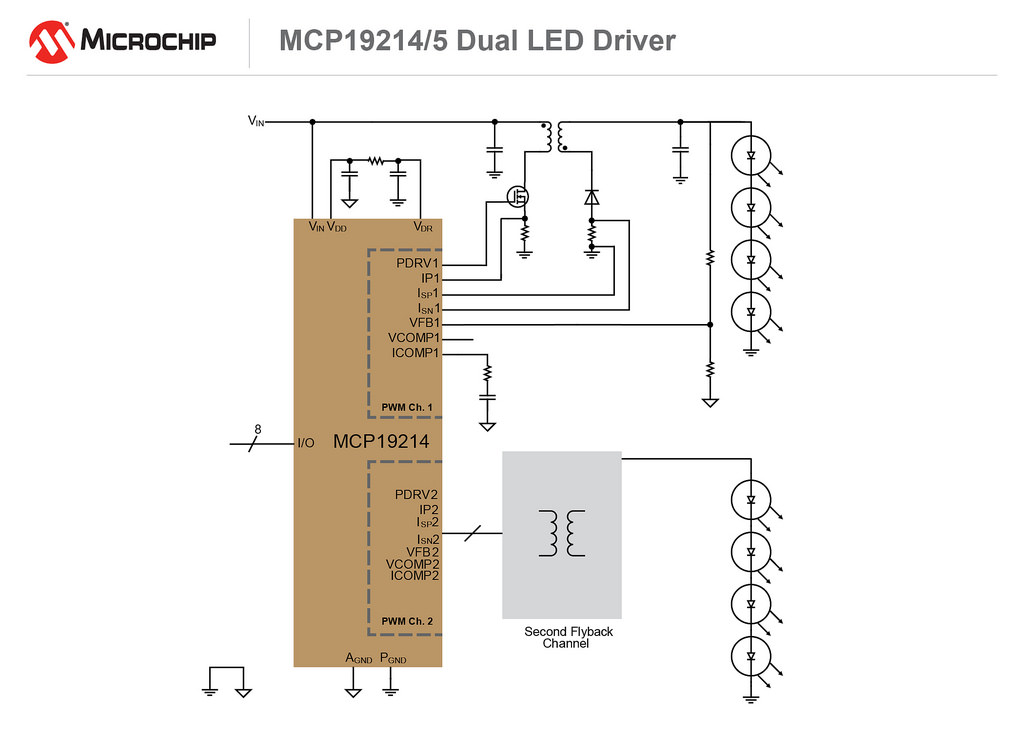 The MCP19215 has independent voltage and current control, and can be configured for constant voltage or constant current operation on each of the two control loops. Alternatively, the two control loops can operate in opposite directions on the same power train, creating a bi-directional power supply. The benefits of this include the ability to use the same power supply to control power in and power out of a storage device (like a battery or a supercapacitor) while fuel gauging. In addition, it can switch automatically between sourcing and sinking.
All of the key operating parameters, including the output level, are dynamically reconfigurable during operation by using the internal microcontroller core. The device features a pair of independent low-side drive outputs, for controlling boost, SEPIC, Cuk or flyback topologies.
The single-chip solution is capable of accepting a high-voltage input (up to 42V) while simultaneously regulating a wide output voltage range (300 mV to several hundred volts, depending on topology). The device is well-suited for industrial and automotive environments and in particular for battery charging and LED drive applications (see image above). The MCP19215 also features low quiescent current sleep modes and the ability to survive load dump transient conditions, making it well worth considering for automotive applications.
Using the configurable internal registers allows for a programmable operating frequency, with a programmable phase shift, to coordinate the two power conversions. This reduces electromagnetic radiation in the application, preventing interference problems.
MCP19214 and MCP19215 are available today in a 5 x 5 QFN package starting at $3.17 in 10,000 unit quantities.