Microchip will showcase a variety of efficient and smart power solutions based on the company's products during APEC 2019 in Anaheim, California, taking place March 17 to 21.
Hybrid power microcontroller solutions featuring core independent peripherals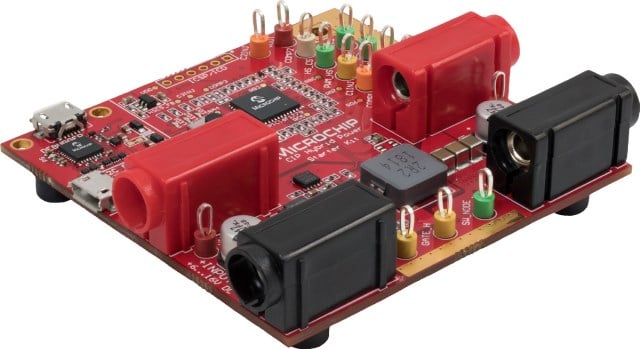 Digitally controlled power supplies have proven to be an optimal solution for many power delivery applications, offering greater flexibility, higher efficiency and longer system life than fully analog supplies. The
CIP hybrid power starter kit
is a hardware platform designed to demonstrate the flexibility of Microchip's CIP hybrid power microcontroller as used in a switched-mode power supply (SMPS) application. The board incorporates the PIC16F1779 as the freely programmable power management integrated circuit (PMIC) device of a synchronous buck converter. The synchronous buck converter on the board accepts input voltages ranging from 6 V to 16 V and delivers an output voltage of 3.3 V with a maximum load current of 8 A. The output of the power supply is rated for maximum 25 W.
DSPIC DSC digital power and motor control solutions
Digital signal controllers (DSCs) offer the performance of a digital signal processor (DSP) with the simplicity of a microcontroller (MCU) and enable the design of high-performance, precision motor control systems that are more energy efficient, quieter in operation and offer range and extended life. The DSPIC DSC core is designed to execute digital filter algorithms and high-speed precision digital control loops. Microchip offers a variety of development boards and reference designs.
DSPIC33 DSCs provide a high level of programmability and enable standards-based and proprietary wireless charging solutions. The DSPIC33 DSC-based 15 W transmitter complies with the Qi standard and supports controller area network (CAN), near field communication (NFC) and authentication. Targeting applications such as power tools and industrial robots, the 200 W transmitter/receiver solution, based on a proprietary protocol, provides greater than 90% efficiency and includes an advanced foreign object detection scheme.
Demonstrations of these products and more will take place at Booth 211.
For more on APEC, visit our dedicated section Electronics360 covers APEC 2019.