Nvidia Corporation has introduced a new version of its PX 2 artificial intelligence computing platform designed to work as the central computer in automated and autonomous vehicles for driving and mapping.
The Drive PX 2 platform includes AutoCruise technology for highway automated driving and HD mapping while consuming just 10 watts of power. Nvidia says this allows vehicles to use deep neural networks to process data from multiple cameras and sensors for self-driving. The platform will first be deployed in Baidu's in-vehicle car computer for self-driving in China, which was announced last week at Baidu World.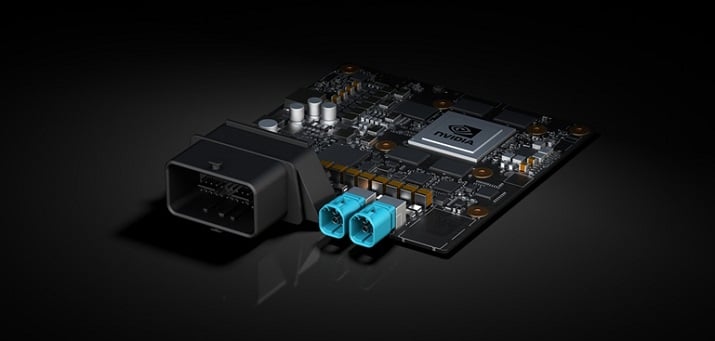 The Drive PX 2 platform includes a Pascal-based processor, two discrete GPUs and Parker SoC configuration to enable autonomous functions in cars. Source: Nvidia Using the Drive PX 2 platform, a car can understand in real-time what is happening around it as well as locate itself on an HD map in order to plan a safe driving path forward. Nvidia says more than 80 carmakers, start-up companies and research institutions are developing autonomous driving solutions based on the Drive PX 2 architecture.
The platform includes a single mobile processor based on Nvidia's Pascal technology along with two discrete GPUs. The Drive PX 2 system implements Nvidia's Parker system-on-chip (SoC) configuration, which can process multiple cameras plus light detection and ranging, radar and ultrasonic sensors.
The single-processor Drive PX 2 will be available to Nvidia partners in the fourth quarter of this year.
To contact the author of this article, email engineering360editors@ihs.com