Sluggish Internet connection and browsing speeds are the bane of many during air travel. The problem is attributed to high-altitude signal latency – the slowdown in page-loading imposed by all the images, fonts, videos, and more on a Web page.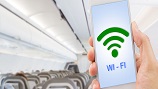 A Chrome extension offers a solution to sluggish Internet connection and browsing speeds during air travel.
The key to faster loading is to make those elements bigger. Northwestern University engineers devised such a solution for improving in-flight communications. ScaleUp is a Chrome extension that measures and dynamically adjusts every page a user loads to improve quality of experience while browsing.
ScaleUp increases the scale factor of Websites when a network is slow. Making fewer objects visible on a page shortens render time and enables the page to appear in the browser much quicker. Other fixes include blocking certain types of objects that could reduce network load without being integral to the look and feel of the site, such as font types.
More data are needed, say the researchers, noting that ScaleUp will deliver much of that as more travelers use it. The team hopes to resolve the problem of high levels of packet loss inflight, During transmission, a Website is broken into pieces called packets. A browser loads a desired Website by putting those packets back together. If a packet gets lost, maybe because of a connection failure, the browser asks for it again and waits for every packet before drawing the page.