Deep linking teeters on the cusp of shattering the walls that separate mobile apps from one another—the result of the convergence of technologies and market forces driving to transform the digital information landscape. As deep linking matures, it promises to blur the lines separating apps and Internet content. Those people seeking to access information residing in the two spheres will be able to seamlessly search for and discover the most relevant data available, no matter where it resides. However, this metamorphosis will not stop there. The contextual awareness that increasingly colors many of the services provided on mobile platforms will also shape apps' search and discovery process.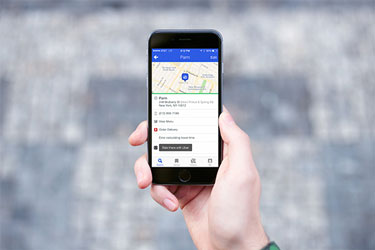 Deep linking enables users to move from one relevant data to another no matter where the material resides. Courtesy of Button Inc.Combine deep linking and contextual awareness gives you the means to change the way consumers and technology providers perceive and perform search and discovery. Ultimately, the pursuit of relevant data will stop being a centralized process and take on a more distributed approach.
"The current model of search is that you go to one place in the middle," says Chris Maddern, co-founder of Button Inc. "It becomes the hub, and you go outward. You always go back to that jumping-in point. Whereas, in mobile, in the apps that we are in, every state, every place, every screen in an app is the most sensible jumping-in point for a contextual search because it knows the most about you and what you are doing at that time. So in mobile, where ever you are in the app is the new hub of the search."
A State of Change
All of these changes are a reaction to the opaque nature of apps. In the past, most mobile apps functioned as islands of data, with their content veiled, un-indexed, and inaccessible. Technology providers offered no search and discovery mechanism that could penetrate apps' shells. The only content that crawlers could identify was the app titles and descriptions found in app stores and on company websites. App structures simply lacked the hooks required for discovery. Mobile links took you to the app's home page, leaving you to do the heavy lifting of any search, and often, these efforts were rewarded with frustration. However, in recent years, several trends have emerged that make this situation acceptable.
Recently, major app developers have begun to unbundle their apps, offering single-function apps instead of all-encompassing, multifunction apps. The thinking behind this shift is that you can pack only so many features and so much content into an app before it becomes too complex to use.
"The move away from one app that does everything to a whole bunch of apps that do one thing very well has created a need for a way for those apps to communicate with each other," says Mike Fyall, head of marketing at URX. "The unbundling effect has increased the demand for deep linking."
In addition to the changes in the way people use apps, the evolution of e-commerce and the role played by mobile platforms have also increased the demand for deep linking. Businesses see mobile as an effective venue for e-commerce. It has become increasingly apparent that native mobile app platforms have the potential to outpace mobile Web platforms in this area. The key to successfully leveraging apps is the free flow from one app to another.
"As apps begin to do one thing very well, the business that owns them wants them to be able to create connections," says Fyall. "So there is an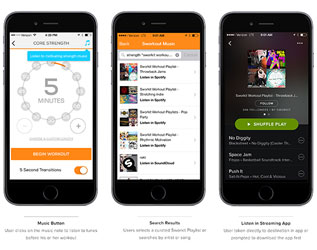 One of the strengths of deep linking is that it can combine the functionality of multiple apps via seamless connections, creating a richer, more powerful experience. In this screen, the fitness app Sworkit helps users listen to playlists tailored for particular workouts. Courtesy of URX.increasing demand to be able to link app experiences together because that is how users will actually use their apps—by going from one thing to the other."
An example of linking app experiences could involve booking a room via an app such as HotelTonight. Once the reservation has been made, the app might show you an ad for a local restaurant, perhaps even offering a discount. By clicking on that link, you proceed to a page in OpenTable, where you can make a dinner reservation. If you did not have OpenTable installed on your phone, you would be offered a link that would take you to the page where you could download the app. As you flowed from one step to the other, you would retain a way back to the location from which you came. If deep linking is done correctly, you transition seamlessly from the hotel app to the restaurant app, always retaining the option of retracing your steps.
As impressive as these changes are, it is important to remember that the technology is still in its early days. While its place in mobile platforms is beyond question, developers have a long way to go before reaching deep linking's final form.
The Nature of the Beast
Deep linking did not emerge with mobile apps. Developers first applied the concept on the Web, using HTTP-based hyperlinks to take people to specific pages within Web sites, eliminating the necessity of going through the site's home page. While mobile deep links function like their Web counterpart, there are key differences.
Both Web and mobile linking mechanisms use a unique sequence of characters to identify the abstract or physical resource to which the link connects. This is, however, the similarity between the two end. The Web's underlying HTTP and URL technologies enable deep linking by default, but the mobile mechanism requires that the apps be configured in a specific way to handle the URL. The fact is that deep linking does not naturally fit into native apps' underlying framework. Compounding the problem, there is no broadly accepted protocol that defines mobile deep links and app structure, as there is on the Web. As a result, what works for one app or mobile operating system (OS) may not work for others.
So while mobile deep links promise to streamline navigation between applications, developers still face a number of challenges. These involve some of the fundamental processes of deep linking and standardization of data and address formats.
"The biggest challenge right now is how do you discover content that is deep linkable," says Maddern. "How do you know whether a user has the app to be able to deep link to that content vs. having to show it on the Web or not being able to show it at all? How do you figure out how to build or index or address a deep link in an app in a way that the app is actually going to understand it?"
In addition to wrestling with the mechanics of deep linking, developers also have to adjust the way they perceive the app search and discovery. "The chief technical challenge is the way apps are built," says Mada Seghetem, co-founder of Branch Metrics. "They are still walled gardens. Many app developers and app stores think of apps as single-entry points, when they should see them as an infinite number of entry points."
The Big Guys Weigh in
The rise of native mobile apps and the onslaught of mobile commerce have motivated Apple and Google to launch initiatives to take on the problems plaguing deep linking. As you would expect, each company's approach to the technology has been shaped by its position in the Web and mobile markets.
Playing to its strength, Google has unleashed Googlebot to crawl and index app content, just as it surveyed websites. The search engine giant aims to surface app content alongside Web content in all its technologies, directing people into apps if they provide the most relevant data or experience. Google hopes its discovery services will blur the line between app and Web content, allowing users to seamlessly move between the two spheres of data. Leading this charge, Google Now will not only provide a discovery mechanism for app content, but it will also serve up contextually framed search results from both the Web and apps.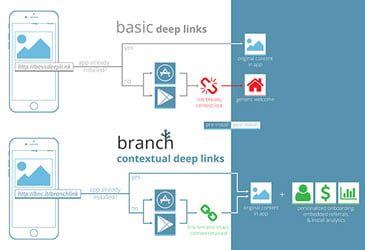 Basic deep linking can connect to an app only if the app has been installed on your mobile device. Contextual deep linking avoids these dead ends by retaining information describing where you came from, how you got there, and what you were looking at even if the app is not installed on your device. Courtesy of Branch Metrics.The company has tailored its mobile OS to pass links into apps in the same way it does with the Web. Registered apps simply respond to the HTTP protocol. When a user opens a URL, the OS verifies that the app is registered and can respond to the URL. It then gives the user the option of launching the content in the app or a browser. For websites to participate, they only have to add Google's app-indexing link tag to their page or use the app-indexing, application programming interface (API).
Following on Google's heels, Apple has launched a similar initiative in which the discovery process uses two indices to organize app screens ranked in search results. Users can surface these screens by executing a search in Spotlight or Siri.
Apple also offers a set of powerful APIs that facilitate what it calls "Universal Deep Linking." Combined, these three tap private data reside on the device and public data in the cloud.
The NSUserActivity API enables apps to remember the activities a user has engaged in and allows the information to be recovered. This helps the user search for things viewed in the past.
The second API, CoreSpotlight, allows developers to specify the content and keywords to be indexed by iOS 9, giving developers control over what can be indexed, how results appear in searches, and what happens when a search result is selected. This API also enables apps to refresh the content available for indexing in the background.
The third API, called Web Markup, allows Apple's Web crawler Applebot to index marketing and support URLs submitted with the app manifest. Applebot crawls the Web and indexes corresponding app screens on the app's website, mirrors the content to the app, and provides deep linking of Web content within an app to make it searchable.
The initiatives of these two tech giants provide nascent standards with which to build deep linking infrastructures. There is, however, still a lot of uncharted territory.
Between Two Giants
While both Apple and Google cast a big shadow, providing broad deep linking systems, a handful of companies has emerged that provides enabling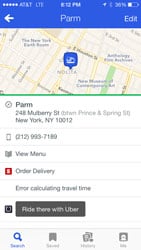 Deep linking facilitates mobile commerce by providing the plumbing to seamlessly view products and initiate actions. Courtesy of Button Inc.technologies for mobile search and discovery systems, extending traffic and commerce among apps. "Facebook has App Links, and Google and Apple have their own standard," says Seghetem. "Branch Metrics fits in between these and tries to build universal links that basically use the deep link technology for all the different platforms and unifies them in one link."
Companies such as Button and URX give app developers the tools they need to build deep linking into the next generation of apps. "Where Google and Apple are trying to create a better consumer search experience, we are trying to build developer tools that let them build these connected app experiences," says Fyall. "What URX does is enable developers to build cross-app experiences based on deep linking."
In addition to supporting the development community, these smaller providers take on big problems standing in the way of expanding the capability of deep linking. For example, Branch's technology goes beyond current deep linking technologies by directing users to the right place within an app even if it is not installed on the device when the link is initially tapped.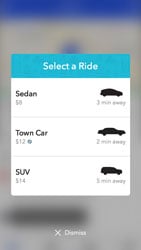 The buttons in this screen provide the means for a user to call the restaurant, order a delivery, arrange a ride to the eatery, or making app connection seamless. Courtesy of Button Inc.Advancing the move to imbue deep linking with greater contextual awareness, Button and Branch provide the plumbing to translate users' activity in apps into connected app experiences. "Button is all about the contextual discovery of data," says Maddern. "Our thesis is that, any time a user is doing something that could lead to another action or could drive one to another subject, there should be a button that would let the user do that. We are about creating the action-driven buttons that give people what they want, when they want it, and allow the service that creates the intent for commerce to share in the upside of the commerce."
While these smaller technology providers provide the tools to build new deep linking products, they also build services that use deep linking as a starting point. "We provide services that sit on top of deep linking," says Fyall. "We enable you to put a button on your site—we crawl your page, figure out what products might be on the page, and then link you straight into the relevant app to the right page. We are building a service, an API, on top of all these deep links to make things easy for folks."