In an attempt to offer scientists conducting research the same tools that big web companies are capable of collecting when it comes to browsing data, researchers from MIT's Computer Science and Artificial Intelligence Laboratory (CSAIL) have created a new system that allows web surfers to share select aspects of their activity with either friends or the public. The new system, Eyebrowse, could also offer users more control over what data gets collected and how it's used.
"We thought of a pretty long list of specific applications of this data that were useful to the end user," said David Karger, an MIT professor of electrical engineering whose group began developing the system in 2010. "Awareness of where your friends are, the ability to run into them, the ability to go somewhere and discover that they were there before, and you may want to talk to them about this thing that you both saw. There's the ability to discover what's popular, in a very broad way. There's collaborative filtering."
According to Karger, when it comes to companies like Google, they know every web selection a user makes, but others looking to collect data are not privy to this type of information. Since major companies do not give users a choice about what activity gets tracked, Karger believes this system is a step toward giving people more choices.
"And maybe someday that will turn into legislation that says that people have the right to decide whether they get tracked or not, in certain circumstances. If people do buy into voluntary tracking, then maybe we don't need involuntary tracking, and that would be pretty wonderful," said Karger.
Over the course of the last 18 months, Eyebrowse project leader Amy Zhang, an MIT graduate student in electrical engineering and computer science, and the team have been developing the system's two main components. The system is comprised of a website and an extension to Google's Chrome web browser. The extension can be installed by a few simple clicks and from that point, anytime a user visits a website, he or she can select the Eyebrowse icon on the task bar and decide from a variety of options.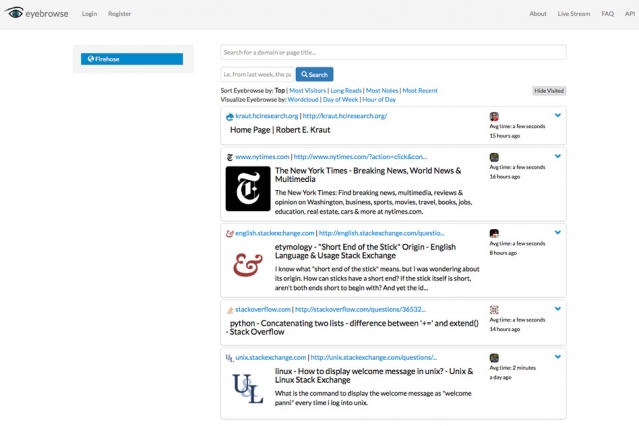 The Eyebrowse website looks like Facebook's "news feed." (Image Credit: MIT/Eyebrowse team)
For example, the user can decide to add the site's domain name to the "whitelist" and give Eyebrowse the ability to record activity on this page, or to turn Eyebrowse off for private browsing.
The system also offers information about which members of the Eyebrowse community have visited the page and when, as well as any notes they made regarding the site. There is also a chat functionality for Eyebrowse users.
The website also provides tools for users to monitor their own browsing histories as well as other Eyebrowse users, including graphs, pie charts, and "word clouds."
"What we have built in terms of potential applications only scratches the surface of what is possible with this data," said Zhang. "That's why the data that people have contributed to Eyebrowse is available in an API [application program interface] on the website for anyone to build on top of or analyze."