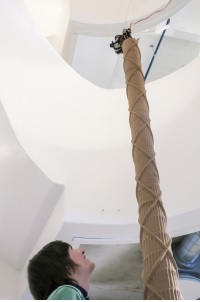 HangPrinter building a "Tower of Babel" Credit: Linnéa Therese Dimitrou/Umeå University A new type of 3-D printer, the 'HangPrinter,' does not depend on a box, frame or rails; the printer can instead be attached to any stable surface. The printer's novel form offers a low-cost, flexible solution for printing large volumes or vast areas.
HangPrinter's inventor, Torbjørn Ludvigsen, started developing the printer while he was a student at Sweden's Umeå University. His initial motivation was to reduce the cost of a 3-D printer.
"The frame or box was almost half the cost of the final 3-D printer, and I thought I could do without it," Ludvigsen said.
Ludvigsen's design can use any existing structure as a frame, or it can be suspended in a space. All parts except the energy source are mounted on the device. The HangPrinter is currently building a "Tower of Babel" in a building on the Umeå campus.
Future versions of the printer could be adapted for outside use or for printing with different materials.
HangPrinter can be assembled for around 200 €. Blueprints are available for free download.
http://www.student.umu.se/english/newslist/newsdetailpage//the-sky-is-the-limit-for-new-low-cost-3d-printer.cid280127