In these days of increased levels of IC integration with multifunctional blocks implementing many complex, system-level functions, it may seem to be an archaic throwback to see a new IC that is a high-end, basic building block designed to do one thing and, presumably, do it very well. Yet there are situations when the available process technology and design topology needed for that top-tier performance rules out using the other processes that are needed for incorporating other functions on the same die. As a result, there's still a place for single-function, tightly focused devices.
That's the case demonstrated by the OPAx388 precision operating amplifier (op amp) family from Texas Instruments, Figure 1. This series offers high precision across the entire input range for a variety of industrial applications, including high-end test and measurement; load cells/weight scales; medical and safety equipment; and high-resolution data-acquisition systems. It's available in single-channel (OPA388), dual-channel (OPA2388), and quad-channel (OPA4388) versions, with only minor differences in critical specifications.
Even basic, fundamental building blocks such as op amps can keep striving for "perfection" as demonstrated by the OPAx388 family of zero-drift, zero-crossover error from Texas Instruments. (Source: Texas Instruments)
The op amps in this family implements TI's proprietary zero-drift technology, which eliminates temperature drift and flicker noise to yield the highest DC precision and dynamic error correction. In addition, its zero-crossover topology eliminates offset errors caused by common-mode limitations of traditional CMOS op amps, yielding a highly linear output and true rail-to-rail input operation.
The numbers tell the story, as the OPA388 has a maximum offset voltage of just 5 µV, a typical offset voltage drift of 0.005 μV/°C and a maximum input bias current of 700 pA over the extended industrial temperature range of -40° C to 125° C. This eliminates the need for costly, complex calibration over the temperature range and increases DC precision.
In many cases, high-precision amplifiers have limited gain bandwidth (GBW) product, but the 10-MHz rating of the OPA388 supports high-gain configurations and makes it a good fit for applications spanning precision weight scales to heart-rate monitors, Figure 2. The ultra-low total harmonic distortion of -132 dBc and voltage noise of 7 nV/√Hz are commensurate with the front-end demands of a high-resolution signal chain.
A typical application for these op amps is as the interface to a load cell/strain gage bridge, especially where the challenge is to accurately capture tiny changes around a large, relatively static nominal value. (Source: Texas Instruments)
Texas Instruments also offers a reference design that demonstrates how to use the precision op amp to eliminate crossover nonlinearity in digital-to-analog converters, Figure 3. This design uses their DAC8830 precision data converter and REF5050 voltage reference to create an accurate DC-calibration system for high-precision applications such as wireless infrastructure as well as test-and-measurement installations.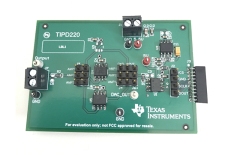 The OPAx388 reference design shows the use of the op amp with related components, as well as the critical PC board layout needed to realize the device's potential performance. (Source: Texas Instruments)
The single-channel OPA388 is available in the VSSOP-8, SOT23-5 and SOIC-8 packages; the dual OPA2388 is offered in the VSSOP-8 and SO-8 packages; and the quad OPA4388 is packaged in TSSOP-14 and SO-14 enclosures. The OPA388 is $0.98 in 1,000-unit quantities in a 4.9-mm × 3.9-mm small-outline integrated circuit (SOIC) package. All three versions (singe, dual, quad) are specified over the extended industrial temperature range (-40° C to +125° C).
For more information about the OPAx388 devices, visit www.ti.com/opa388-pr.