A robotic bat with soft, articulated wings can mimic the key flight patterns of biological bats and may be key to unlocking how future flying drones operate.
Researchers at the University of Illinois at Urbana-Champaign and California Technical University have been studying bats' agility and wing characteristics in order to see how a flying robot could be more beneficial than current unmanned aerial vehicles (UAVs), such as quadcopters.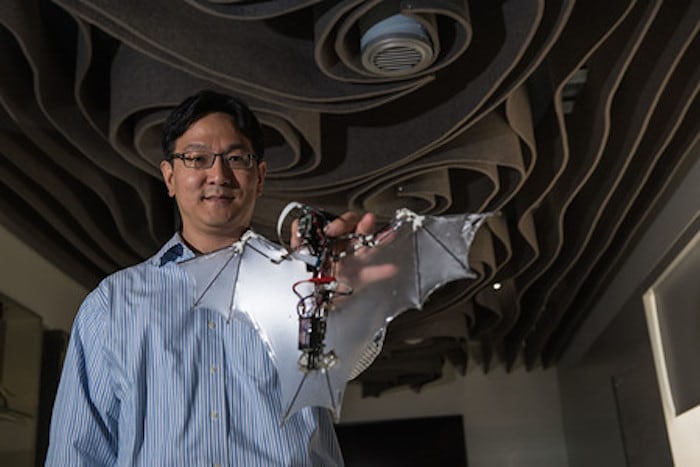 The bat bot could be used in construction to monitor building creation or fly into places where humans can't go such as nuclear reactors or collapsed structures. Source: University of Illinois at Urbana-Champaign Their research resulted in a prototype robot, dubbed Bat Bot 2, which features self-contained flapping wings with bat morphology and can fly autonomously. Weighing 93 grams, the bat bot features dynamic wing articulations and wing conformations similar to those found in biological bats.
According to their research, bats have one of the most sophisticated powered flight mechanisms among animals with more than 40 types of joints that interlock the bones and muscles to one another, creating a musculoskeletal system that can change shape and is capable of movement in multiple independent directions.
However, creating a flying robot featuring bat-like characteristics have proven to be difficult, due to the complexity of the wings and skeletal system. Researchers were able to reduce the 40 joints in their robot to nine—five active joints and four passive joints—made of flexible materials that can withstand impact with obstacles in the environment with little or no damage.
The Bat Bot 2 includes a morphing skeleton array and a silicone-based membrane skin that enables the robot to change its articulated structure in mid-air without losing an effective and smooth aerodynamic surface.
"Our flight control results are the first demonstration of using asymmetric wing folding of the main flexible wings to control the heading of the aerial robot," said Alireza Ramezani, a postdoctoral researcher at the Coordinated Science Laboratory at the University of Illinois at Urbana-Champaign. "Its morphing property cannot be realized with conventional fabrics (such as nylon or mylar) that are primarily used in flapping wing research. Non-stretchable materials resist the forelimb and leg movements in B2. As a result, we covered the skeleton of our robot with a custom-made, ultra-thin (56 micron), silicone-based membrane that is designed to match the elastic properties of biological bats' membranes."
The bat bot wings flap like a rubber sheet as it fills up with air and deforms and then on the down-stroke motion pushes the air out when it springs back into place. Researchers say this bat-inspired robot brings significant improvements in energy efficiency over current aerial robots.
Researchers believe this type of robot could be used in construction sites to supervise operations. This could include keeping track of whether a building is being put together in the right way at the right time comparing the information model to the actual building being constructed.
"For example, for tasks that require the aerial robots to be stationary, our bat-inspired aerial robots will eventually be able to perch, instead of hovering, by taking advantage of unique structures in construction sites such as steel frames, side walls, and ceiling frames," said Soon-Jo Chung, an associate professor of aerospace at Caltech. "This is a more energy-efficient and reliable solution since stationary hovering is difficult for quadrotors in the presence of even mild wind—which is common for construction sites. Furthermore, perching or landing conventional aircraft and quadrotors in such unusual places is nearly impossible, due to their limited control authority at slow motor speeds and aerodynamic couplings such as wall or ground effects."
Researchers envision the bat bot operating in tight quarters with humans and beyond where humans can go. Equipped with a radiation detector, 3-D camera system or temperature and humidity sensors, the robot could inspect something like the Fukushima nuclear reactors, where radiation is too high for humans. Or it could fly into tight crawlspaces such as mines or collapsed buildings, or help in recovery of critical infrastructures such as nuclear reactors, power grids, bridges and borders.