Auris Health, Inc., formerly known as Auris Surgical Robotics, Inc., has announced U.S. Food and Drug Administration (FDA) clearance of the company's Monarch™ Platform, ushering in a new era of medical intervention.
With the introduction of the Monarch Platform, Auris seeks to transform endoscopy, the use of small cameras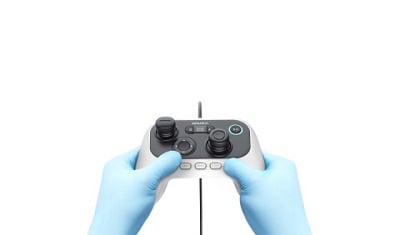 Auris Health's Monarch controller. Source: Business Wireand tools to enter the body through its natural openings. The Monarch Platform integrates the latest advancements in robotics, software, data science and endoscope innovation, with the goal of dramatically improving patient outcomes, enhancing physician capabilities and lowering costs to the healthcare system.
Auris' first targeted disease state is lung cancer, and the FDA has cleared the platform for diagnostic and therapeutic bronchoscopic procedures. The goal of the technology is to enable more-accurate diagnosis, and eventually treatment, of small and hard-to-reach nodules in the periphery of the lung.
The company has raised more than $500 million in equity capital from leading technology investors, including Mithril Capital Management, Lux Capital, Coatue Management and Highland Capital.
The Monarch Platform utilizes a familiar controller-like interface that physicians use to navigate the flexible robotic endoscope to the periphery of the lung with improved reach, vision and control. Combining traditional endoscopic views into the lung with computer-assisted navigation based on 3D models of the patient's own lung anatomy, the Monarch Platform provides physicians with continuous bronchoscope vision throughout the entire procedure.