Researchers at the Universidad Carlos III de Madrid (UC3M) in Spain have created a prototype 3-D bioprinter that is capable of printing functional human skin for the first time.
The 3-D printed skin could possibly be used to be transplanted to patients or used in business settings in order to test chemical products, cosmetics or pharmaceutical products. Researchers say the human skin is one of the first living human organs created using bioprinting.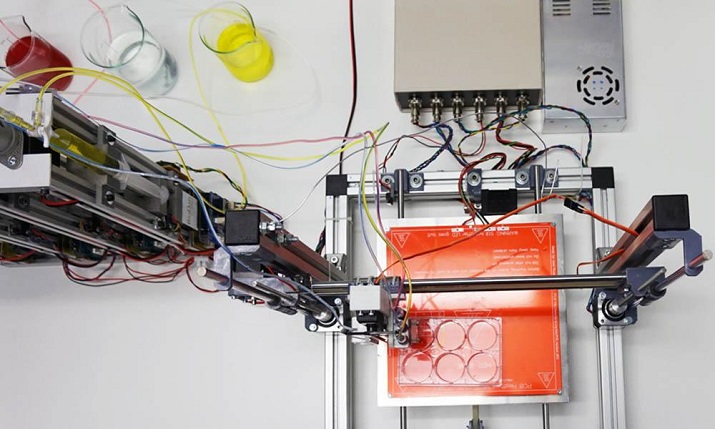 The 3-D printed skin replicates human skin with three layers that could be grafted to humans or used in research. Source: UC3M The printed skin replicates the natural structure of the skin with a first external layer—the epidermis with its stratum corneum—acting as protection against the external environment and another thicker, deep layer, the dermis. The final layer consists of fibroblasts that produce collagen, the protein that gives elasticity and mechanical strength to the skin.
How They Did It
Instead of using cartridges and colored inks that are used in 3-D printing, bioprinting involves using biological components called bioinks.
These bioinks must be used in the right mix and conditions so that the cells don't deteriorate. So how to correctly deposit the product is critical to the system, UC3M says. The act of depositing these bioinks is controlled by a computer, which deposits them on a print bed in an orderly manner to then produce the skin.
The process for creating the skin is carried out in two ways: First, to produce allogeneic skin from a stock of cells for large scale industrial processes; and second, to create autologous skin made on a case-by-case basis from patient's own cells for therapeutic use such as in the treatment of severe burns.
"This method of bioprinting allows skin to be generated in a standardized, automated way, and the process is less expensive than manual production," says Alfredo Brisac, CEO of BioDan Group, a Spanish bioengineering firm specializing in regenerative medicine that is collaborating on the research and commercializing of the technology.
The 3-D printed skin is currently in a development phase and is in the process of being approved by European regulatory agencies to make sure the skin that is produced is adequate for use in transplants on burn patients or those with other skin problems.