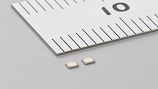 Murata Manufacturing Co., Ltd. has introduced the world's reportedly smallest crystal unit of 1.2 x 1.0 mm. The crystal does not sacrifice electrical performance unlike other miniaturized components.
Designated the XRCED Series, the crystal is smaller than the company's XRCMD Series, introduced two years ago in a 1.6 x 1.2 mm size with frequency precision of +/-20 ppm for small wireless devices. With the increasing use of equipment using wireless communications such as Wi-Fi and Bluetooth, the need for decreased size has grown, for smartphones, wearables and hearing aids.
Murata's technology assures excellent resonance resistance and dielectric strength, and by further decreasing the size to 1.2 x 1.0 mm, the product contributes to size reduction for mobile equipment and modules that use wireless technology such as Wi-Fi® and Bluetooth®.
With crystal units, resonance resistance (ESR) worsens when the vibrating area of a crystal is restricted by miniaturization. Murata has obtained favorable ESR (60 Ω max) by using special packaging technology and high-precision assembly. Normally the package is made low profile to reduce the size of the crystal unit, but that leads to deformation of the package and seal breakage. For this reason, Murata uses a structure that distributes stress at the time of molding and assures dielectric strength.
The crystal conforms with RoHS regulations and is lead-free.