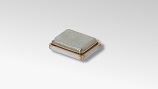 Murata Manufacturing Co., Ltd. has enhanced its product lineup by commercializing a 2.0 x 1.6 mm size high-accuracy crystal unit (XRCGB-F-H series) for wireless devices. This product achieves +/-10 ppm initial frequency tolerance and is compatible with Bluetooth® communication implemented by mobile devices and modules.
When originally introduced, these crystals were limited to a frequency tolerance of +/-40 ppm. Murata has now achieved a frequency tolerance of better than +/-20 ppm in the compact 2.0 x 1.6 mm size, which allows for mounting in Bluetooth® devices previously unachievable by existing product lines.
Specifications for the crystals including operating frequencies of 24, 25, 26, or 32 MHz depending on version, an ESR of 60 or 80 Ω, load capacitance of 6.0 pF, and drive level of 300 µW.