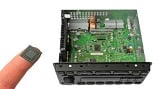 SAF4000 software-defined radio solution. Source: NXP At CES 2017, NXP Semiconductors N.V.  is announcing the SAF4000— reportedly the world's first fully integrated, software-defined radio solution capable of covering all global broadcast audio standards, including AM/FM, DAB+, DRM(+) and HD.
According to NXP, the IC represents a breakthrough in simplifying the development of high-performance infotainment platforms, as it replaces today's multi-chip solutions with a single ultra-compact RFCMOS device.
The SAF4000 is software defined, thus simplifying the logistics for car OEMs: a single hardware device covers all regional broadcast requirements via an end-of-line firmware update, saving cost and complexity for multiple hardware and software offerings across the globe.
In combination with NXP's new i.MX 8 applications processor and the TDF8534 smart Class D amplifier, NXP is now able to offer a complete high-performance, easy-to-use car infotainment platform with integrated audio in the market.
The integration provided by the SAF4000 reduces complexity and system costs while delivering 60% power and space savings for great design flexibility.
Engineering samples are available.