Advanced Micro Devices Inc. (AMD) is spinning off its graphics chip and board arm into a separate business under the name of Radeon Technologies Group.
AMD originally established its graphics chip business after it acquired and integrated ATI Technology, where its Radeon line was the most popular graphics option. Now the circle is complete with AMD spinning the graphics business off as a separate entity once more.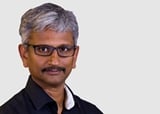 Raja Koduri, senior VP and chief architect of Radeon Technologies GroupAs part of the spin off, Raja Koduri will be promoted to senior VP and chief architect of the Radeon Technologies Group. Koduri, most recently was responsible for driving AMD's visual and accelerated computing innovations.
Dr. Lisa Su, president and CEO of AMD, says in a statement that the move to establish a separate business out of its graphics division will create a "more agile, vertically-integrated graphics organization focused on solidifying our position as the graphics industry leader." She says the move will also allow the company to recapture profitable market share across traditional graphics markets as well as move into other markets such as virtual and augmented reality.
Questions or comments on this story? Contact engineering360editors@ihs.com
Related links:
IHS Semiconductors & Components
News articles:
AMD Launches Next-Generation Processor