Mind over matter as thoughts alone control a robotic arm. A device to harvest the energy from your car's suspension system. And move over Mozart! We'll show you music to write code by. This is your weekly news brief.
Thoughts Control Robotic Arm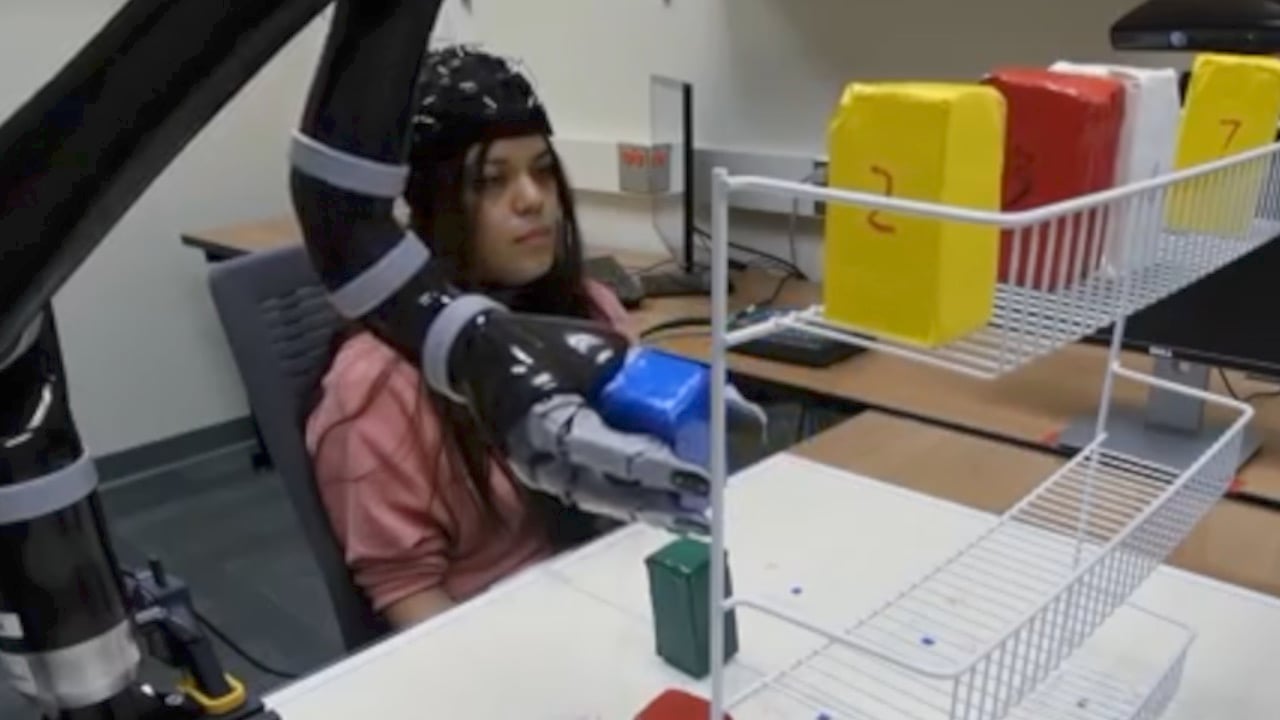 A breakthrough that allows people to control a robotic arm using only their minds has been made by researchers at the University of Minnesota. The research has the potential to help millions of people who are paralyzed or have neurodegenerative diseases. The study involves a noninvasive technique that records weak electrical activity of the subjects' brain through a special cap fitted with 64 electrodes. The device converts the "thoughts" into action by advanced signal processing and machine learning. Eight healthy human subjects completed the experimental sessions wearing the cap. Subjects gradually learned to imagine moving their own arms without actually moving them to control a robotic arm in 3D space. With practice, they were able to move the robotic arm to reach and grasp objects in random locations on a table and move objects from the table to a three-layer shelf by only thinking about these movements.
Energy Harvested from Vehicle Suspension System
Boosting the fuel efficiency of motor vehicles by "harvesting" the energy generated by their shock absorbers and feeding it back into batteries or electrical systems such as air conditioning has become a major goal in automotive engineering. Now, a researcher in the UK has designed a system and built a prototype that is ready for real-world testing. The researchers say that their regenerative hydraulic shock absorber system converts the oscillatory motion of a vehicle suspension into unidirectional rotary motion of a generator. They say that a system using piston-rods achieves recoverable power of 260 Watts with an efficiency of around 40%. The model paves the way for further work to maximize the performance of regeneration, ride comfort, and vehicle handling.
Turning Do-Re-Me Into Code
A novel method for teaching children computer programming basics will go on display at two museums in 2017. TuneTable, an interactive tabletop device, teaches kids programming basics while they put together a musical piece. A research team from Georgia Institute of Technology and Northwestern University, funded by the U.S. National Science Foundation, recently introduced the device. A user makes music with TuneTable by moving coaster-like markers around the interactive surface. Each marker is assigned a sound or a command. The surface uses computer vision to detect each marker's function. The markers include basic programming that anyone learning programming would encounter. The table will be installed at the Museum of Design Atlanta in early 2017 and Chicago's Museum of Science and Industry in the summer.