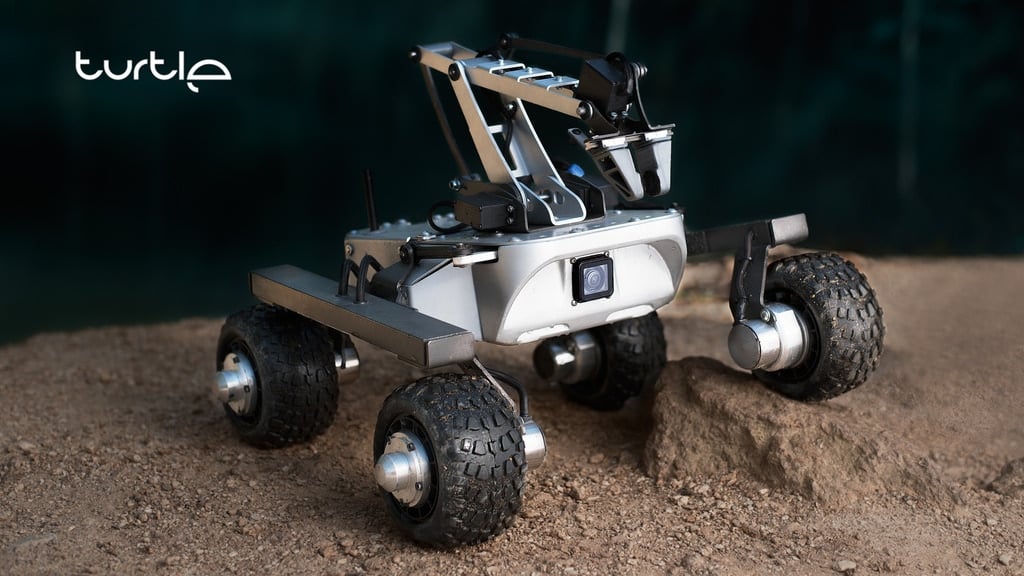 The Turtle Rover on Kickstarter. Source: Kickstarter
Turtle, the world's first Earth rover, has launched on Kickstarter. Turtle has up to four hours of continuous driving and a Wi-Fi range up to 200 m/220 yd. The rover has open source hardware and software, a watertight design, full HD camera and live streaming. It is also equipped with a robotic arm.
Users can upgrade Turtle and adjust it to their needs. Users can add a GoPro or DSLR camera to Turtle and record/photograph using a remote control. Users can also add an external light and a 360-degree camera to drive around bunkers, tunnels and small areas. Turtle can transport equipment and follow the user around using Kinect to detect people around it. Users can also add custom electronics and modules to use Turtle as a development platform. The software can be modified to fit the user's needs.
Turtle Rover is the first remote-controlled mobile robot that is capable of working in rough terrain and is available for everyone. Turtle is an RC-robot that allows equipment to be mounted on it and to record in places like caves, water reservoirs and ruins. It gives users the freedom to add extensions as needed. This is made possible by the mounting surface on the top of the rover, open electronics based on Raspberry Pi and open-source code.
The rover's casing is entirely watertight, including the robotic arm. This allows the rover to be driven in any kind of weather, including underwater. The rover also has enough drive for up to four hours. Turtle has a robotic arm and a gripper, full HD camera livestream and NASA-inspired suspension.
Turtle is steered remotely through the Wi-Fi app. Through the app, the Turtle can be driven anywhere, to bring back what it finds, snap photos and record videos. Because Turtle has long-range communication capabilities, Turtle can be operated remotely. The rover streams live HD camera view and lets you see where you are going even if it is out of sight. The app works on any device that has access to a web browser, like phones or tablets. The range is up to 200 meters (220 yards).
The control panel design was inspired by real control centers that have also launched space missions. The simple and intuitive design makes steering Turtle Rover simple and easy.
To learn more about the Turtle Rover, visit Kickstarter. The team hopes to have Turtle Rover shipped in early 2018 after the Kickstarter campaign has ended.