Have you ever seen those videos of houses with the lights synchronized to music and thought, "Wow, I would like to do something like that on my house?"
About five years ago I was that person, and now it is my own holiday lights setup that leaves people gawking. It takes a lot of work and money, but you can start small and cheap and grow it over the years. There were lessons I learned and a few tricks figured out along the way that might be helpful to someone starting out.
First, a bit of a warning: putting up computer controlled lights can become addicting. It may not seem like it, and it won't feel like it when you're putting the lights up. Once you're done you are never satisfied—you are always looking for improvements and your next 'fix'.
Commercial Solutions vs. DIY
There are lots of options when it comes to the technology, from complete DIY designs to more off-the-shelf solutions. A DIY design can save you a lot on cost, but you will be required to have more time as well as more electrical and electronics knowledge. Commercial solutions are still not available in the store and need to be ordered but make a setup more plug-and-play.
Types of Lights
One of the first things you need to decide is what kind of lights you want to use. There are really only two choices: traditional or newer technology. The traditional light route uses standard strings of lights that you can buy at a store and these come in many different varieties, such as LED and incandescent, but generally they all work the same. The second option is somewhat-newer technology, generally called pixel lights, where each bulb on the string can be individually controlled.
Traditional lights
If you go with the standard light approach you want strings of lights that do not have any special functions such as blinking or any other element of control. You want simple lights that stay on when they are plugged in. The plan is to control these with your own electronics and if the lights also have some control built-in it just won't work right. What you can do with this type of setup is toggle them on and off or dim them in time with the music.
You can use this setup to make unique-looking displays or have changing colors by buying three or more different color strings and twisting them together. Effects like leaping archways can be accomplished by wrapping multiple strings around pipes. You will need a lot of lights and controls to do more complex displays and it does have limitations but it is easy to plug in more lights. As this has been the only lighting method available up until recently, you can find plenty of great displays and examples of creativity.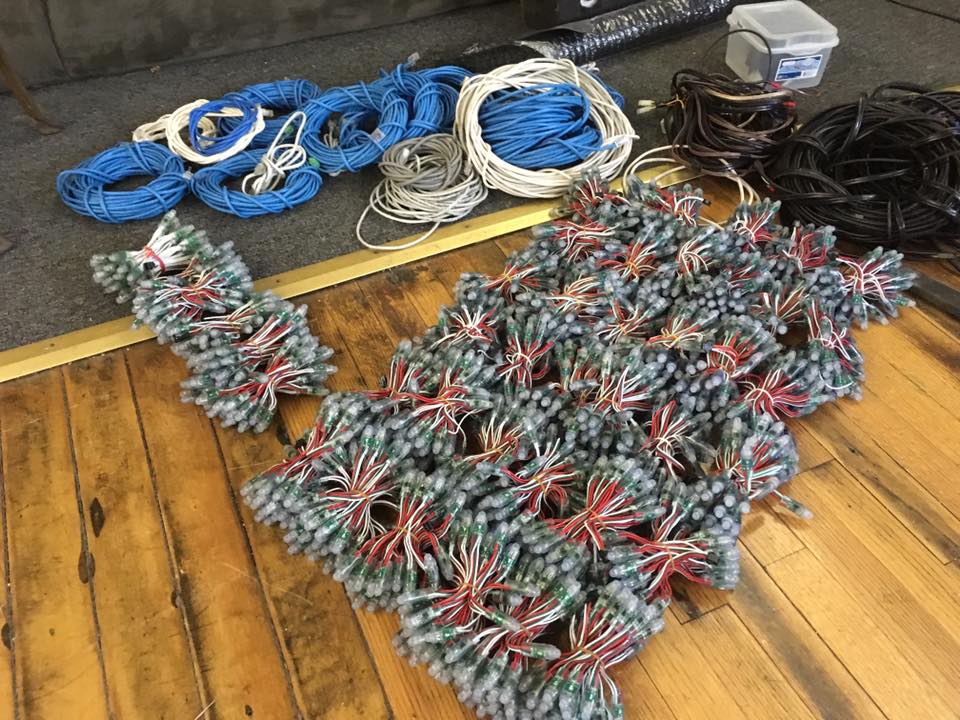 Pixel lightsPixel lights
Pixel light strands are made of bulbs that can be individually controlled and each bulb is capable of 1.2 million colors by mixing the RGB levels in each bulb. The light strings themselves are not particularly more expensive than the traditional lights, but all the equipment needed to run them will add up. For starters, pixel light strings don't just plug into an outlet—a power supply is needed to run them. The more lights, the higher amperage power supply you will need. This also requires a controller that talks to a computer and can output the correct digital signal to the lights. Without these two things you won't even get a pixel light to turn on. The benefit of pixel bulbs becomes obvious quickly when you see them. The ability to control each bulb means you can do many more effects than with traditional setups. For example, a grid of bulbs can be programmed as a video display.
Other options
There is a third option that I personally have not explored. It is somewhat of a convergence between technologies with light strings made with pixel-type bulbs that also have basic built-in controllers linked to an app. I expect we will eventually see pixel-type light strings that can be controlled in more complex ways sold in the stores but these are not yet sold in stores, to my knowledge.
Lastly, I will note that it is possible to mix old and new; a computer with the correct software can output the necessary data to talk to both types of light systems at the same time. The first time I set up computer-controlled lights I mostly used the traditional lights with a few pixel strings to add some extra effects. I have, over several years, added lights to my display and removed the traditional strings in favor of a pixel-only system.
Don't Underestimate Storability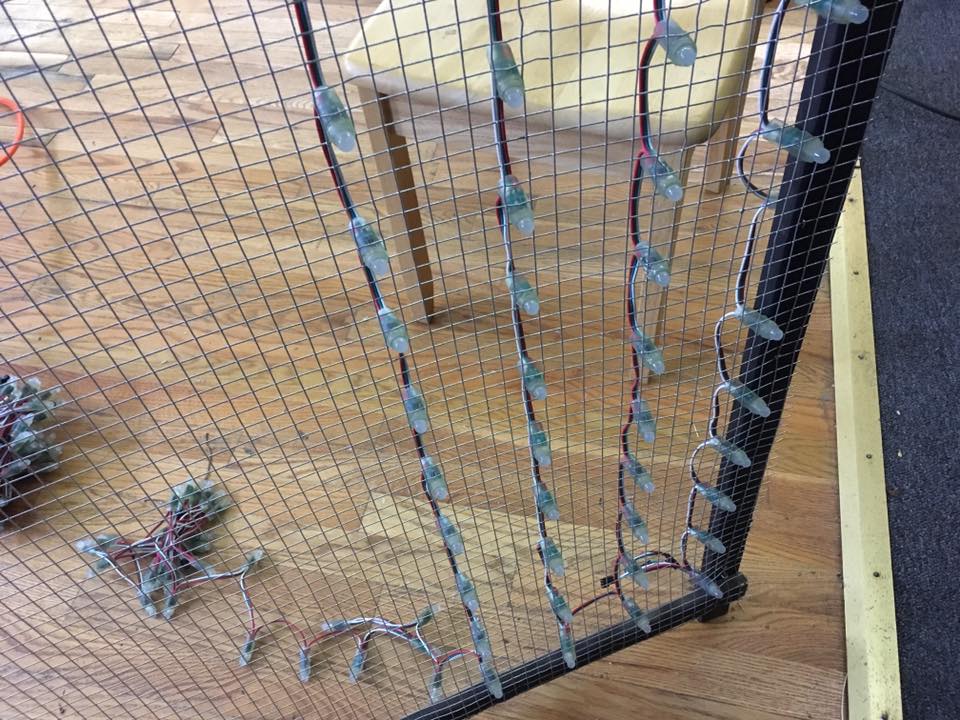 Display matrix construction.
Storage is important if you want to put your display up more than once. The light strings don't take up a lot of space when they are coiled up, but it takes a lot of time to uncoil and string them all up. It is much easier to build some sort of structure that you can mount the lights to that can be put up and taken down in a few pieces. Make sure that whatever structure you build has storage space.
I built a large ball out of PVC pipe and metal which got many compliments from the neighbors. It took a long time to design and build, but the whole thing folds up like an umbrella and is easy to store and deploy. By contrast, another year I built a large grid of lights that was 8 x 32 ft. made from four 8 x 8 ft. large sections. When it came time to take the lights down, the 8 x 8 ft. sections wouldn't fit anywhere or even through a door and I had to disassemble them.
Build as Elements
It is better to build your lights display as elements that you can reuse and add to modularly. The 8 x 32 ft. light grid I mentioned above consisted of 2,000 bulbs, but I have decided to double the bulb count although this is a bad approach.
Since I had to take the grid apart anyhow it was a good time to improve it, but doing so forces you to rebuild the display from scratch. This includes the programming that must be updated to match the new lights configuration. It is much easier to reuse elements and programming and simply add other things to it for new displays.
Electronics—The Heart of Holiday Lights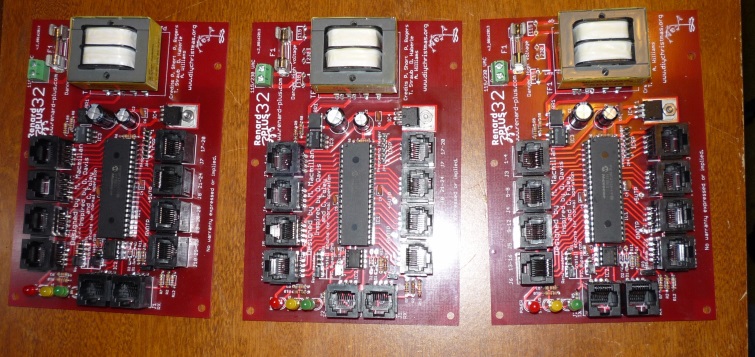 The electronics are the main difference between a computer-controlled show and just regular lights. They are the most important part of the show despite that no one sees them except you. The number of options available for the electronics has grown in the last number of years, all with different prices and functionality.
Controllers for pixel-type lights are newer but still have many options and features. Cost will likely influence your choice, as will your level of DIY skills. If you want a plug-and-play system you will have to pay significantly more for it. The cheapest option will be if you are willing to solder the electronic boards together and make your own wires for everything. My system is a combination of everything but plug-and-play. A good comparison of controllers can be found at these links:
· Do It Yourself Christmas: Controllers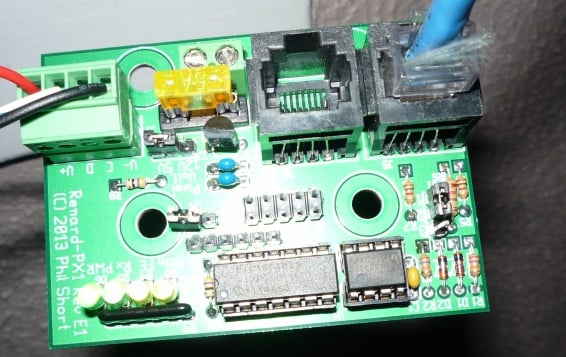 · Do It Yourself Christmas: Control Boards and Contacts
How Addiction Starts
Once you start to put up computer controlled lights you may want to do more next time. As I mentioned, it is sort of like an addiction. It sneaks up on you. You put some lights up and think, "What is all the hype about?" but then at some point, long after your lights have been taken down, your mind wanders and you think about all the possibilities. You start thinking about what you could do to improve your lights next year. You think, "I am just going to put up a few more lights it will help fill things out and let me do a little more, no big deal." The next year the same thing happens, but you decide you need more, perhaps a cool-looking matrix or mega tree, whatever. Before you know it you have a 10,000-plus bulb pixel light system that takes weeks or months to put together and you are wondering where you can cram more lights.
You're In Luck
If you are getting into the hobby now you are at an advantage because you can skip the obsolete technology. In the beginning, the controls were just about all DIY circuits and utilized the old parallel ports traditionally used for printers. Controllers now are either USB, or more often connect to Ethernet and have to serve up a web page for configuration. Most are still wired but some can be used wirelessly. You can make the light show more compact by using a Raspberry Pi or BeagleBone minicomputer to play the show. Likewise the software has improved as well, which makes things easier and quicker than before.
I started with controllers that required external solid state relays and would allow me to turn on and off and dim any string of lights that would plug into a standard outlet. Despite the simplicity I started with enough controllers to run 160 channels and it made for a cool light show.
This year I will have somewhere around 8,000 individual, controllable RGB elements running somewhere north of 10,000 individual RGB bulbs (some bulbs are controlled in groups). By many standards this isn't a big display. I did add about 4,000 more bulbs from last year, but of course I have ideas of what else I want to add to it in the future.
Three of the big elements in my show are a large matrix, a ball and the trees in the front of my house.
The matrix
Light matrix installed.The matrix has 4,200 bulbs and is the largest part of my show. The matrix is made of 14 smaller matrix panels that have 300 bulbs per panel. Each panel is made from wood and a metal screen with half-inch spacing, typically known as hardware cloth. The bulbs are spaced 3 in. in both dimensions, with each panel having a lighted area of 7.5 ft. tall and 27 in. wide. One of the difficulties in the matrix was deciding on the size and how to arrange the bulbs. The strings of bulbs come in sets of 50 and one string of bulbs plugs into the next. A string of 50 was too long to fit anywhere useful; one option is to mount the bulbs closer together. I wanted to cover the majority of the front of my house with the matrix which is about 40 ft. wide. If I used each string vertically then I wouldn't have equal spacing horizontally. Another option was to fold each string in half, but with the spacing it made the grid about 6 ft. tall, which isn't bad but didn't quite cover the front.
Whatever I used had to be a multiple of 50, such that the connectors would end up where I needed them after some number of strings. I wanted to fit these on frames using wood that was 8 ft. which is also the perfect height to cover the front of the house. I ended up using 30 bulbs for each column so after 10 rows I would be at 300 and would put my connector at the spot I needed it. There were some other considerations that went into this count but it gave me a good size panel that would be easy to set up and not too bad for storage. I used wood to frame the panels and then put hardware cloth on them. The tedious part was pushing and crimping 4,200 bulbs into the panels. Now that they are done they do look good and can be used for many years.
The ball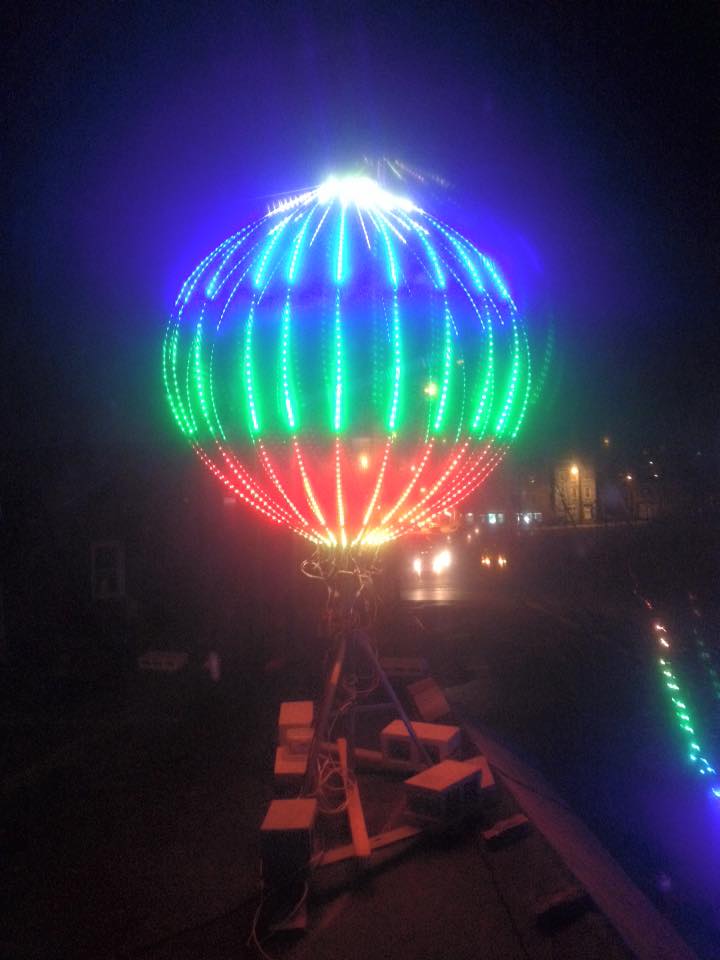 The other large element of my show is a ball, I built this ball last year and for some reason it was a neighborhood favorite. As I set up and take down the display people always say how they enjoyed my lights but the ball is the part that most people comment on. Perhaps because it is somewhat unique or just that it looks cool. The idea for the ball came about from a common lighting element others have used called a mega tree. A mega tree is a display of lights that are usually strung on cables around a pole such that they form the shape of a Christmas tree. I wanted to do something a little different so I used PVC pipe to hold the lights and have them secured on the top and bottom such that they form a ball. As an added benefit it is possible to pull the bottom parts out and insert short pieces of pipe to transform the ball into the traditional tree shape. The ball uses 24 pipes and the hubs of the ball were the difficult part as they needed to be strong to hold the tension of PVC. I ended up using old disk brakes and welding on metal rods to form the hub. The lights are connected to the PVC with velcro which it makes it quick and easy to set up and take down. The whole thing, despite being 6 ft. in diameter, comes apart and makes it easy to store. I spent a lot of time making the ball last year but this year it only took me a few hours to set up again.
Trees
Light brackets on the trees.The trees in the front of my house each contain six strands of lights. Last year I wrapped each string around the branches and it took me two full days to do the four trees I have. I wanted to make it easier this year as last year took too long and involved lot of time on a ladder and climbing in the tree. I had good weather last year but that won't always be the case.
This year I built metal brackets that mount to the tree with ratchet straps. I mounted the lights on PVC pipe that would slide into the brackets. It did take me a long time to make the brackets but once everything was done I was able to put up the lights on all the trees in about four hours which is a vast improvement.
Software Makes the Show
The last but quite important part of holiday lights is the software and sequencing the lights to music. Since the beginning I have used free software called Vixen. It is quite capable, but another software package called xLights/Nutcracker is also free, which I am also considering using. It is possible to use them together to create unique effects as well as some other software. It is even possible to pull in video and pictures to display on a matrix display or other type display.
Sequencing the lights to music used to take many hours per minute of song but the newer software has improved the process. If you want a really good sequence or are particular about the timings you can spend a lot more time, but otherwise you can get something that looks decent in a just a few hours per song. I can't comment about the paid software since I have never used it although most of it is designed to work with specific hardware. If you want a plug-and-play system expect to use specific software. The one thing I haven't explored yet but am interested in is creating custom animation videos for use on the display. Free animation software is available and is used a lot for creating video games. With the combination it should be possible to do some really creative things.
About That Power Bill…
One of the questions I get is, "How much is your power bill?"
In the past, before LED lights, powering large numbers of lights was a major issue. People would have to hire electricians to wire up extra circuits just to run their light displays. Those days are for the most part gone, as LED lights are so much more power efficient that it is possible to run a large number of them from a single outlet. Computer controlled lights draw even less power because they are not always on. With RGB bulbs, they only draw the maximum when they are white since that is when the three bulbs inside each bulb are all on.
Despite all my lights I can't say I have noticed my power bill having gone up at all during the time I run the show. I have measured the current draw of the power supplies at the outlet and added up all the lights on full brightness. It is about equal to running four moderate-speed computers or two gaming computers. The lights are only on for about four or five hours at a time and over the course of that time draw about half of the total. So consider the power needed to run two average computers for about five hours each evening.
In the end you want to end up with a display you are proud of that will entertain the people who view it…and I hope to continue to feed my lighting addiction
Now go light something up.
Happy Holidays!