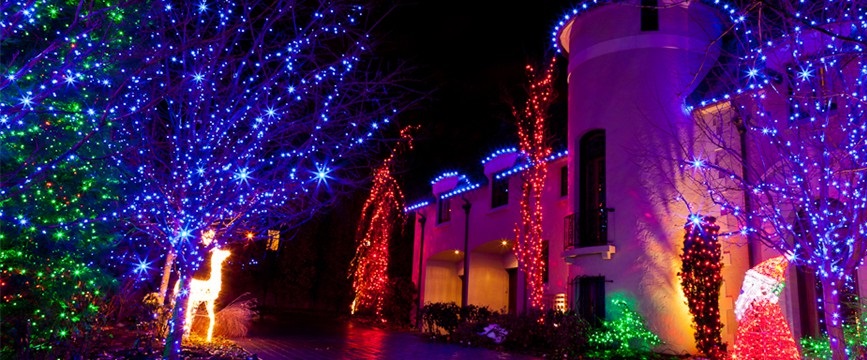 Source: SanDevicesHoliday lighting has become a big time hobby. (I should know!) There is even a network TV show that showcases some of the more elaborate displays.
One of the main brands of controllers being used in holiday light displays is from SanDevices. Based in Carmel, Indiana, SanDevices is a two- to three-man operation (depending on the time of year), started by Jim St. John in 2012. At first a hobbyist himself, St. John developed his own light controller to keep costs low.
While conducting research, St. John learned that there was a small-but-growing market of holiday light fans that were eager to get their hands on low-cost light controllers. After perfecting the design, SanDevices now manufactures and sells the controllers in low volumes.
One light display has sparked thousands of others. I had a chance to speak with Jim to learn how he got started, what he has planned for the future, and about his involvement in holiday light shows.
How did you get started?
I started as a hobbyist doing a personal display and I wanted to get into pixels. The only thing available was the Light-O-Rama cosmic color ribbon that cost about $150 for each string with a controller. I wanted to do a mega-tree and it would have been about $3,000 to do that. I felt there had to be a better way.
I had been wanting to tinker with the Parallax CPU for a while so I thought that might be a good fit. Initially, it was for my own use. I started talking about it on the forums and there was interest from others as well. I started selling it in kit form and then in assembled form. Eventually, I got hooked up with an assembly firm and things just went from there.
How did you start the design process?
The Parallax CPU interests me because it has eight separate cores on one chip. I have always liked working with assembly language and the Parallax, while limited in memory, has multiple CPUs on a single chip and the high speed makes them ideal for applications that involve a lot of non-standard digital outputs.
One of the issues when creating a pixel controller is that the standard MCU ICs are not the best fit for controlling a bunch of pixel strings. The protocol of the pixels doesn't match any MCU protocols like SPI or I2C — it is an oddball format. Most controller designs wind up splitting the task of outputting to the pixels and doing the number crunching to separate CPUs. The Parallax CPUs are better designed to bit bang a new protocol, with a standard MCU you need to generate an interrupt and address that I/O pin. The Parallax doesn't use interrupts, with the Parallax you assign that task to a separate processor. I use one CPU for every four outputs on the controller.
Did you collaborate with anyone or did you design the controller?
I worked with someone on the forums a little but it is my design. Someone else was working on a Propeller-based project. We collaborated on the driver software for the Ethernet software, that sort of thing.
Is this your day job?
I had been retired so this is not necessarily full time for me, but it is a comfortable amount of hours that I spend on the business. I don't have another job. I am a reseller for Madrix because it is a popular product, more so for commercial customers because of the pricing. It is something that I use and a lot of my commercial customers use.
Do you put up your own light show?
It has been hit or miss the last few years, for me, because I am busiest during the time when people are working on their displays for the holiday. I am busy with the business so my own display has tended to suffer because I don't have the time to devote to it that I used to.
How many of your controllers are in use? When did you first sell it?
I have sold over 10,000. The first year I offered it in quantity was 2012. In 2011 I had the first initial designs.
What do you use for sequencing?
I use a combination of Light-O-Rama and Madrix. When I first created my light matrix it was too late in the season to do traditional sequencing. That is what got me started with Madrix because it is designed around controlling a matrix of pixels. It has the ability to create effects in a short amount of time. It also has the ability to be controlled by another software package. I create all of the matrix and mega-tree pixel designs in Madrix and use Light-O-Rama to tell Madrix which scene to bring up at what part of the show. I am running it off of a PC when I run my show.
Have you used other software or hardware, such as a Raspberry Pi?
I have a bunch of Pis and I keep telling myself that I need to play with and learn about them. I get questions from people about Falcon or Vixen and I need to be more familiar with them to answer people's questions intelligently.
What is a common mistake people make when making elaborate light displays?
The GE pixel lights that are sold by big box stores are a fairly common protocol. You can take a string, cut off the controller and connect it to a pixel controller. I have seen people do things with other strings but you need to be careful, some of the strings do strange things in terms of powering the pixels. They don't have isolation from the power lines and it is easy to get into trouble if you connect them to an external controller. There are some examples I have come across where it is technically feasible to do, but it scares me. Somebody could wire up something wrong and create a hazardous situation.
What type of feedback do you get from customers?
I enjoy hearing from my customers and seeing what they are doing with the controllers. I appreciate the feedback. One of my customers, who is not far from me in Indiana, is a colonel in the National Guard. I email back and forth with him and he shows me what he is working on.
He told me a story the other day about a guy who came by and knocked on his door. The guy said he was so depressed he had been thinking of killing himself, and had been planning to drive home and do just that. He was so impressed with the colonel's light display that he knocked on his door and talked to him instead. It shows how much a holiday light display can do to raise people's spirits.
What does the future hold for SanDevices?
I have a few new products that will be coming out in 2017, along the same basic line with some refinements. One is a four output controller intended for commercial applications. Adding additional features to the larger controller is another thing I am working on. As time goes on I find myself working more and more with commercial customers. We did a project with SeaWorld in Florida and I enjoy doing that type of thing.
One example would be a company that designs custom glass chandeliers and they were doing a display for a shopping center. They wanted to light up a glass globe with pixels. They had restrictions, such as lack of accessibility, which I had to work with them on. I have done some projects for artists; one was a big giant metal sculpture that had been illuminated with static LEDs. He was working with a designer out of the U.K. that wanted to do it with pixels. That was a collaboration between myself and the artist. I have had several fun projects I have been able to work with. And some pretty impressive Christmas displays.