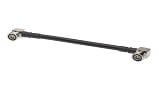 Molex has introduced the
4.3-10 RF Connector System and Cable Assemblies
 that offer high-performance signal transmission with low passive intermodulation (PIM), 100% data traceability and less torque than current interfaces. The solutions include a connector that is 30% smaller and 60% lighter than DIN 7/16, and a cable assembly with a one-piece, patent-pending, weatherproof boot ideal for use on outdoor cellular sites.
Telecom OEMs and wireless service providers require coaxial jumpers in varying lengths and with various connector interfaces. Molex's custom, factory-fabricated coaxial cable assemblies eliminate a vendor as well as the need for customers to assemble the solution themselves.
Three mating options are available for right-angle and vertical plugs: hand tight, quick lock and wrench tight. These provide design flexibility without compromising electrical performance, while the smaller connector size decreases operational costs by reducing tower loading.