Mouser Electronics is now stocking high-density multi-fiber push/pull (MPO) data center solutions from Molex. These cable assemblies help designers integrate data center networks by reducing the number of cables required, lowering overall system cost and maintenance.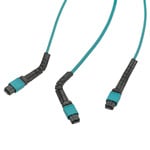 New data center solutions from Molex (Credit: Molex/Mouser)
Molex high-density multi-fiber solutions are available in 12- and 24-fiber assemblies in various lengths with several different fiber types to meet system requirement. The push-pull connector housing provides quick and reliable connection. This simplifies installation and reduces overall setup time and maintenance cost. The plenum-rated cables feature jacketing with flammability specification for data center applications and the low-profile connector design allows for multiple connections with reduced footprint when compared to single-fiber cables.
Custom labeling on both ends of the assemblies offers easy quality control and traceability when maintaining data center systems. Molex MPO cables are ideal for applications including fiber cabling from rack to rack, room to room and floor to floor.
To learn more about this product, visit the Mouser page here.