Daimler AG's Mercedes-Benz brand has started a new car sharing platform that will allow peer-to-peer vehicle sharing from private owners.
Called Croove, the car sharing initiative will begin in Munich, Germany in December where people needing a vehicle will use the app to connect with vehicle owners. The vehicles included in Croove will include all brands and will allow consumers to find a well-maintained, safe vehicle that suits their mobility requirements. The platform also gives users a greater flexibility in renting a vehicle from a station that is in a fixed location, Daimler says.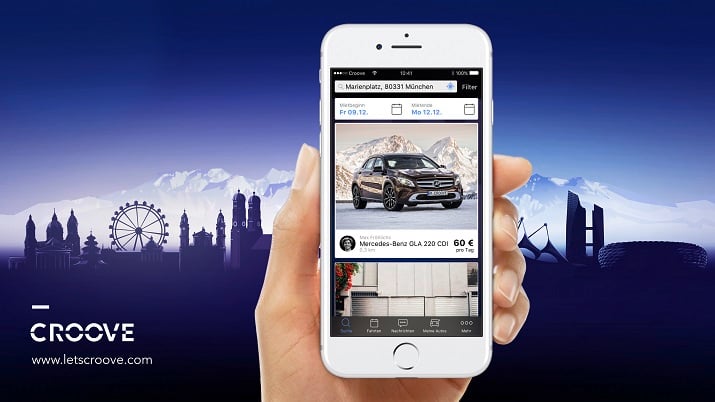 Mercedes-Benz's Croove app allows people to find vehicles for use from private owners that they can drive that meets their requirements. Source: Daimler The company says both sides of the venture benefit from the transaction as users save money compared to traditional car rental agencies and they get the exact model of car they requested. At the same time, owners of the vehicle can earn extra money while they are not using their vehicle.
"On average, a car is parked up for 23 hours a day," said Dr. Dieter Zetsche, chairman of the board of management at Daimler and head of Mercedes-Benz cars. "Why not make it earn a little money during this time? Car-sharing will be a key element of the mobility concept in tomorrow's cities."
Croove is a smartphone-based platform that will be available on both Android and iOS operating systems as well as a website for booking a vehicle via laptop or desktop PC. Owners create an online profile with the details of their vehicle and renters look for what brand of car they want. The vehicles must be in good condition and no more than 15 years old.
Renters (or hirers) can arrange to either pick up the vehicle in person or pay extra for a pick up and delivery service and Daimler is looking to add keyless solutions in the future where hirers would collect the vehicle using a PIN code.