It is not child's play, but a team of Rensselaer Polytechnic Institute researchers in Troy, New York, are using the Microsoft Kinect, a motion sensor add-on for the Xbox 360 gaming console, to replace expensive sensors on its geotechnical centrifuge. During studies, the Kinect provided a low-cost means to measure the rate of soil erosion.

The device is helping the researchers better understand how levees fail when overtopped by large floods, in order to provide accurate data to better re-build the levees in New Orleans destroyed by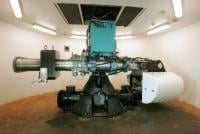 Commissioned in 1989, the geotechnical centrifuge at Rensselaer Polytechnic Institute recently received an upgrade thanks to modern gaming technology. / Photo credit: Rensselaer Polytechnic Institute Katrina. The knowledge obtained could also result in the construction of more effective dams and levees in regions across the country, in order to potentially prevent future flooding.
Kinect Results Match Physical Modeling
The researchers designed centrifuge tests to simulate real-size levees, creating a realistic physical model of soil erosion. During the study, the Kinect scanned and evaluated the volume of eroded soil and the variation in the shape of the channels over time.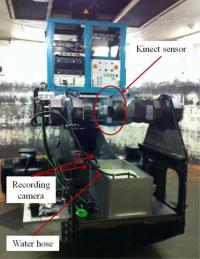 The Kinect sensor tracks soil erosion.

The results obtained proved to be accurate based on physical models constructed from recorded videos and photos taken during the tests. In the past, such tests to obtain real-time soil erosion data were costly and difficult to obtain, according to Thomas Zimmie, a dam safety expert, professor of civil engineering and key member of the research team.

The project, funded by the National Science Foundation, also includes researchers Barbara Cutler, associate professor of computer science, who also serves as an affiliated faculty member in the Curtis R. Priem Experimental Media and Performing Arts Center (EMPAC); W. Randolph Franklin, professor in the Department of Electrical, Computer and Systems Engineering; and civil engineering Ph.D. graduate Mehrad Kamalzare '13, who joined the faculty at Cal Poly Pomona, and serves as an assistant professor in the Department of Civil Engineering.
Protecting Lives and Property Through Technology
For the past 10 years, the researchers have been studying soil erosion, levees and flood protection systems. "To the best of our knowledge, this is the first time that a Kinect system has been used on a geotechnical centrifuge," says Zimmie in a press release. "The objective of this research is to develop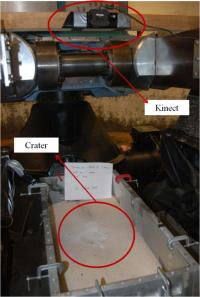 A close-up view of the Kinect system. tools that would improve the understanding of the process of levee failure because of erosion and reduce the future risk of failure in order to protect lives and property."

Between 1996 and 2015, approximately 1,640 Americans died in floods, according to statistics from the National Weather Service.