A device that costs just 20 cents could be used in off-the-grid regions to help diagnose and help treat diseases such as malaria, African sleeping sickness, HIV and tuberculosis.
Researchers at Stanford University have developed a "paperfuge" patterned after a child's toy known as a whirligig that involves a loop of twine through two holes in a button then rhythmically pulling the twine from each end. For just 20 cents of paper, twine and plastic, the device spins at speeds of 125,000 rpm and exerts centrifugal forces of 30,000 Gs.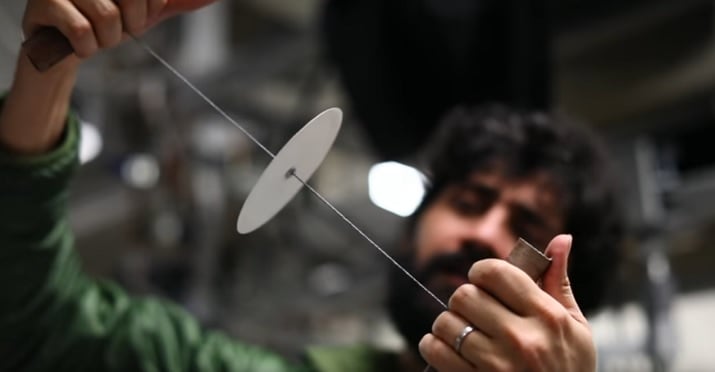 For just 20 cents, a centrifuge can be constructed to help diagnose diseases in areas where they can't afford costly medical equipment. Source: Stanford University When used to test disease, the centrifuge separates blood components and makes pathogens easier to detect. The centrifuge spins fluid samples inside an electric-powered, rotating drum where forces separate fluids by density into layers within a sample tube. In blood, red cells collect at the bottom of the tube, plasma floats to the top and parasites, such as those in malaria, settle in the middle.
"There are more than a billion people around the world who have no infrastructure, no roads, no electricity," says Manu Prakash, an assistant professor of bioengineering at Stanford. "I realized that if we wanted to solve a critical problem like malaria diagnosis, we needed to design a human-powered centrifuge that costs less than a cup of coffee."
How They Did It
Stanford University began exploring ways to convert human energy into spinning forces and turned to industrial age toys such as yo-yos, toys and whirligigs. The whirligig seemed like the best fit and after two weeks of prototyping, researchers mounted a capillary of blood on a paper disc whirligig and was able to centrifuge blood into layers.
The engineers then built a mathematical model of how the devices work and created a computer simulation to capture design variables like disc size, string elasticity and pulling force. They also borrowed equations from the physics of supercoiling DNA strands to understand how hand-forces move from the coiling strings to power the spinning disc.
Researchers say the 20-cent centrifuge matches high-end centrifuges that cost from $1,000 to $5,000. Based on lab trials, the team found that malaria parasites could be separated from red blood cells in 15 minutes and by spinning the sample in a capillary pre-coated with acridine orange dye, glowing malaria parasites could be identified by simply placing the capillary under a microscope.