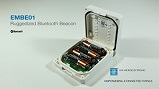 Semiconductor supplier EM Microelectronic has announced the EMBE01 enterprise grade Bluetooth v4.1 proximity beacon with extended battery life and an IP-65 rated weatherproof enclosure for deployments in all conditions. The EMBE01 is part of the EM Microelectronic family of Bluetooth beacons, which includes the popular EMBC0x coin cell beacons.
The EMBE01 is particularly suited for mass deployment by system integrators in demanding environments and for more permanent installations. It is the company's first beacon to include four AA batteries with a 7-10 year lifetime, and a weatherproof enclosure. The beacon includes a push button and magnetic reed switch for internal and external control, along with two LED's for visual feedback to the user for simplified programming.
Six common advertising standards are pre-programmed into the beacon including iBeacon™, altBeacon™, Eddystone™, and EM Sensor Beacon thereby allowing maximal flexibility of usage for customers. The EMBE01 can be delivered in any quantity with guaranteed unique ID numbers, and with a serial number and QR-code printed on the label for optical scanning.
All beacon parameters including UID, output power and beacon interval can be configured over-the-air, and the entire application firmware and stack can be replaced over-the-air if desired. The firmware can be customized using the Enterprise Beacon Development Kit. Complete source code and support is available through the emdeveloper.com forum for registered users.
The EMBE01 is FCC, IC, and CE certified, RoHS, and REACH compliant.