Estimote Inc., a New York based startup, has joined forces with Nordic Semiconductor ASA (Oslo, Norway) to develop "stickers" with built-in accelerometers, temperature sensors and Bluetooth Smart radios that can be used as location and geofencing beacons.
The stickers are sub-$10 beacons that can be attached to everyday objects to provide contextual and location information and allow apps to run on any Bluetooth Smart piece of equipment, but typically a mobile phone, and thus drive the Internet of Things.
These signals can be picked up by consumers' smartphones, at which point the compatible app triggers different actions, such as welcoming consumers to the store, showing a store directory or helping the user to navigate around the store to find goods of interest.
Estimote stickers are less than 3mm thick and make use of the Nordic nRF51822 Bluetooth transceiver chips to provide Bluetooth Smart connectivity for the beacon. The Nordic chip includes a Cortex M0 processor core with 256kbytes of flash memory, accelerometer, temperature sensor and 2.4 GHz Bluetooth 4.0 Smart (also known as BLE or Bluetooth low energy) bidirectional radio.
Estimote also provide a software development kit to build help developers build a context-aware applications.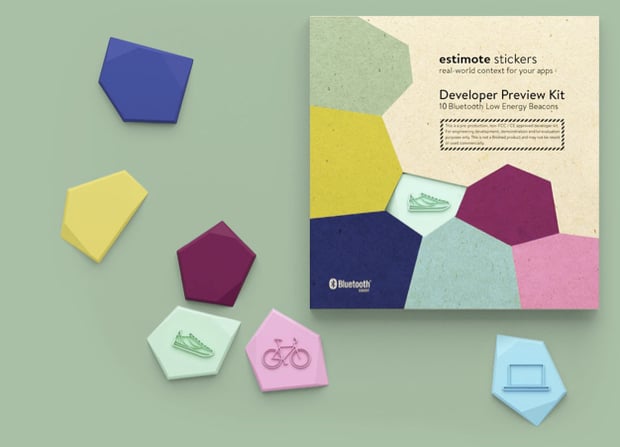 Estimote Stickers can be used to provide microlocation and contextual data about nearby objects to any Bluetooth Smart Ready device
Estimote's SDK and Cloud tie everything together by granting apps access to the metadata, including beacon ownership, object type, and precise location. They also enable security and other services on top of the beacons.
The low-energy nature of the Bluetooth interface means that devices can run for up to two years from single coin-cell battery although this depends on the signal strength and beacon broadcast frequency. The system uses the same 2.4GHz carrier frequencies as WiFi routers and has a range of up to about 70 meters, according to Estimote.
Design work was done in partnership with Nordic to achieve the sticker-sized level of integration without sacrificing operational reliability or battery life, which Estimote reckons will last one year under typical usage conditions
Estimote, was founded in April 2012, by Jakub Krzych who serves as CEO and Lukasz Kostka who serves as CTO and has received more than $3.4 million in funding and includes Andreessen Horowitz, Bessemer Venture Partners and New Europe Ventures LLC amongst its backers.
"In terms of the inner workings of the Sticker Beacons it was super important for Nordic's nRF51822 SoC to have a 32-bit ARM Cortex M0 microprocessor and 256kbytes of flash memory on-board to enable both us and our customers to run pretty much any application they require from the Nordic SoC," said Kostka, in a statement in a from Nordic. "Occasionally we get a custom firmware request from an important partner and we're confident that the Nordic chip gives us the headroom we need as our software evolves."
Kostka continued: "There are other features such as Programmable Peripheral Interconnect [PPI] that can be used out of the box to make life easier for our developers. In the case of PPI it allowed us to easily and effectively measure, and later optimize, battery life. Also, having a powerful ARM processor with abundant memory was crucial for us while developing industry-standard security for beacons and the whole platform. Being able to efficiently compute complex hash functions and store pre-cached seed data allowed us to focus on the main challenge – security – rather than implementation details."
Geir Langeland, director of sales and marketing at Nordic added: "In many ways the beacon technology market today is exhibiting parallels to the GPS market was 10 years ago. And it's not difficult to image a world where the ability to interact intelligently with everyday nearby objects becomes as standardized and ubiquitous as GPS and location-based services are today."
The Estimote Beacon SDK is available for $99 and a pack of 10 Estimote Stickers is expected to retail for $99. Estimote claims to already have 25,000 developers working with its Beacon SDK and to have signed up major industry partners, including Cisco, to use its Sticker hardware.
Related links and articles:
IHS connectivity and IOT services
News articles:
CSR Rejects Microchip Takeover Bid