Microchip Technology Inc. has announced Bluetooth low energy (BLE) solutions that are qualified to the latest Bluetooth 4.2 standard. The company's IS1870 and IS1871 BLE RF ICs and the BM70 module feature worldwide regulatory and Bluetooth Special Interest Group (SIG) certifications. The offerings target Internet of Things (IoT) and Bluetooth Beacon applications, enabling designers the means for low-power consumption and simplicity of BLE connectivity.
Features include an integrated, certified Bluetooth 4.2 firmware stack, 2.5x faster data transfer speeds and connection security, with FIPS-based secure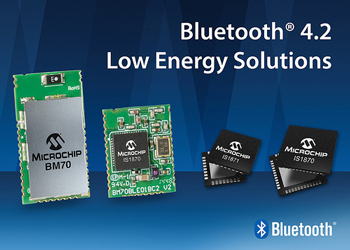 Source: Microschipconnection support. The use of Transparent UART mode for data transmission is designed to make it easy to integrate with any processor or the hundreds of Microchip's PICMCUs that have a UART interface.
According to Microchip, the power profile extends battery life, in compact form factors as small as 4x4 mm for the RF ICs and 15x12 mm for the module. The module options include RF regulatory certifications, or non-certified for smaller and more remote antenna designs seeking end-product emission certifications.
The company has also announced the BM70 BLE PICtail/PICtail Plus daughter board, which enables code development via USB interface to a PC, or by connecting to Microchip's existing MCU development boards. It is available now for $89.99 each.
Meanwhile, the IS1870 BLE RF IC is available now in a 6x6 mm, 48-pin QFN package, for $1.79 each in 1,000 quantities. The IS1871 is expected to be available this month, in a 4x4 mm, 32-pin OFN package for $1.76 each in 1,000 quantities.
To contact the author of this article, email engineering360editors@ihs.com
Related Links: